These Gourmet Caramel Apples are a Must-Try on Maui
Just one bite of this caramel-coated sweet and you'll have a Good Apple addiction.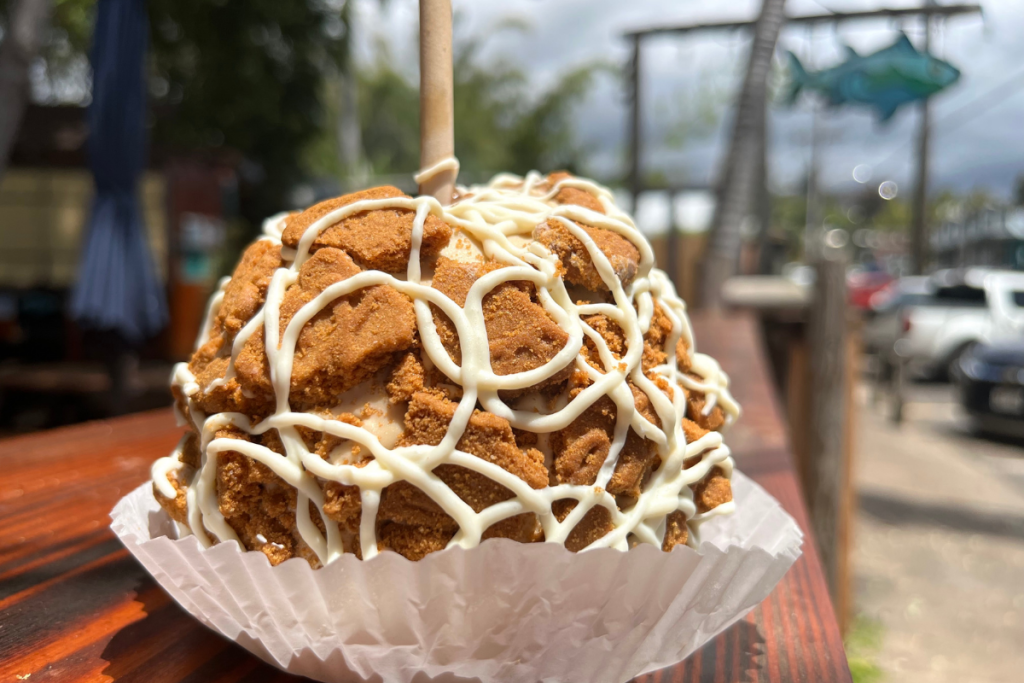 Within one month of reviving her caramel apple venture, Angela Bascon maxed out on orders. Customers just couldn't get enough of her coveted caramel treats.
"We call it a good apple addiction," Bascon laughs, the creator of The Good Apple. And the apples are that good. Tart Fuji apples are covered in Bascon's specialty caramel sauce. After setting, the apples are dunked again, this time in chocolate and then coated in crunching toppings. On a single apple, there's an entire dessert. "I want it to taste like an experience," Bascon says, who has developed more than 35 apple coatings.
Bascon often takes the flavors of familiar baked goods and elevates them into extravagant delicacies. Yet, she preserves the nostalgic feelings that are connected to these comforting treats. Buttery caramel notes, sweet cinnamon and light chocolate all come together in Bascon's beloved apple pie. Her strawberry shortcake apples are dipped in white chocolate, rolled in graham crackers, then topped with candied strawberries and one more decadent drizzle of white chocolate. And the flavors of the bright berries and warmth of the honey crackers mimic a traditional shortcake. Coconut ube, chocolate mochi crunch and lihing dusted apples are some of her more unique flavors.
Bascon grew up in a family of bakers and creators. Her grandmother was an avid pastry chef and created wedding cakes. "Everyone loved going to grandma's because she always had dessert," Bascon recalls. "She always said eat dessert first!" Bascon echos that excitement for dessert.
It was a trip to Disneyland in 2008 that inspired Bascon to start crafting her caramel sweets. While walking on Main Street she saw bakeries with display cases filled with caramel apples and realized there were no apple specialties on Maui.
Crafting caramel apples began only as a hobby for Bascon. At the time she was working at a design firm, but her apple business boomed. "The caramel was key," she asserts. Her golden caramel is rich and buttery, a specialty dessert by itself. Many national caramel apple brands also use Granny Smith, while Bascon opts for Fuji. "It's tart and crisp and makes for a perfect candied apple."
As many people can relate, life is hectic, and Bascon paused her small business venture. "I put it on the shelf, but I just remember having a gut feeling I would come back to it," she says. For years Bascon's family, friends and former customers urged her to return to crafting caramel apples.
Then the pandemic hit in 2020, and Bascon was laid off from her corporate job. "I had to give in," she admits. "And within a month, we were resurrected." Bascon obtained licenses, secured a commercial kitchen, designed her website and started selling wholesale to The Maui Cookie Lady—all within 30 days. On top of that, The Good Apple was maxing out on orders.
"I can't tell you how many first timers become loyal buyers," she says. One bite of a good apple, and customers are caramel apple converts. The secret is in the caramel, which for Bascon, is the next focus of her business. She plans to release jars of her signature caramel sauce as well as bite-size caramel candies, which will be great on-the-go treats.
While caramel apples are often associated with fall on the mainland, Maui's seasons hardly change. So, there's always a reason to indulge in a caramel apple. And the dessert apples also make clever gifts to teachers from A+ students or memorable party favors.
You can find The Good Apple at The Maui Cookie Lady in Makawao, but the apples go fast. Bascon also does meetups on Maui. She says many customers order prior to jetting off to Oʻahu or the mainland. However, the apples should be refrigerated as soon as possible and can last up to a week.