These Hawaiʻi Hole-in-the-Wall Restaurants are Local Favorites
Where to get ʻono grinds on Oʻahu, Maui, Kauaʻi and the Big Island.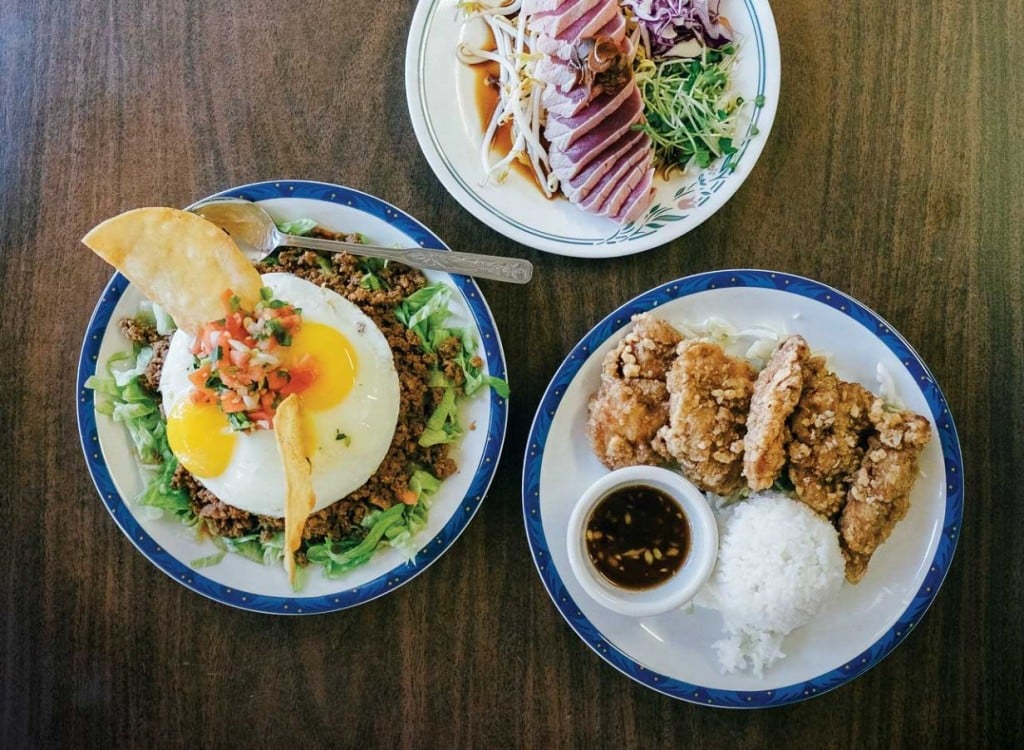 A visit to these Islands isn't complete without a stop at one of these hole-in-the-wall restaurants that every local swears by.
OʻAHU
Ethel's Grill, a cramped 20-seat eatery on the ground floor of a walk-up apartment building, is one of Honolulu's best hole-in-the-wall spots. It's an ode to sumo wrestling—photos of wrestlers cover the walls—that serves heaping portions of local-style comfort food. Don't miss the ahi tataki, seared and thinly-sliced tuna with shavings of marinated garlic, and try the kimchi poke bowl and mochiko chicken, dusted with rice flour and fried for a delicate crisp. 232 Kalihi St., Honolulu, Oʻahu, (808) 847-6467.
KAUAʻI
Aiko and Charlie Hamura started selling homemade saimin from their car in 1951; while the fourth generation now runs Hamura Saimin in more permanent digs, the menu in the no-frills dining room hasn't changed much. It centers around saimin, that uniquely local bowl of noodles that's neither Japanese nor Chinese, and yet a little bit of both. Finish as everyone else does: with a slice of lilikoʻi (passion fruit) pie, airy as a cloud. 2956 Kress St., Līhue, Kauaʻi, (808) 245-3271.
MAUI
Sam Sato's dry noodles are easily Maui residents' favorite comfort food. Served with the dashi (broth) on the side, these thicker saimin noodles are boiled, drained and quickly mixed with a secret seasoning—only known to select family members and a single restaurant employee. Although its teriyaki sticks aren't as popular as the dry noodles, they're just as delicious and highly recommended. 1750 Wili Pa Loop, Wailuku, Maui, (808) 244-7124.
Located in Wailuku, Tasty Crust is a central Maui breakfast mainstay. At this homey café, you can order traditional choices such as omelettes, eggs and bacon and such local favorites as fried rice and loco moco. (The restaurant also serves lunch and dinner.) But Tasty Crust is known for its banana hotcakes. They're made to order, subtly sweet and served with a pat of butter. It's definitely how you want to start your day. 1770 Mill St., Wailuku, Maui, (808) 244-0845. 
HAWAIʻI ISLAND
Nori's is a typical Hilo-style hole-in-the-wall restaurant. The food is simple and delicious. Order local favorites, such as saimin or a loco moco, but a better idea is to bring a friend and order the Big Plate, which comes with battered fish, fried noodles, teri beef, barbecue chicken, kalbi, musubi and mac salad. Tip: Don't miss picking up a loaf of Nori's homemade chocolate mochi cake at the register on your way out. 688 Kinoole St., Hilo, Hawaiʻi Island, (808) 935-9133, norishilo.com.
You can't talk about loco moco without mentioning Hilo, or Café 100. Though the Hilo restaurant often credited with inventing the loco moco in the '40s folded years ago, Café 100 gets a hat tip for popularizing the dish in the Islands and abroad with riffs, such as beef stew loco, oyako loco and the Super Loco, to name a few. 969 Kilauea Ave., Hilo, Hawaiʻi Island, (808) 935-8683, cafe100.com.