These Six Oʻahu Ube Treats Taste—and Look—Amazing
With its iconic purple hue and smooth taste, ube has found its way into the hearts—and bellies—of people across the Islands.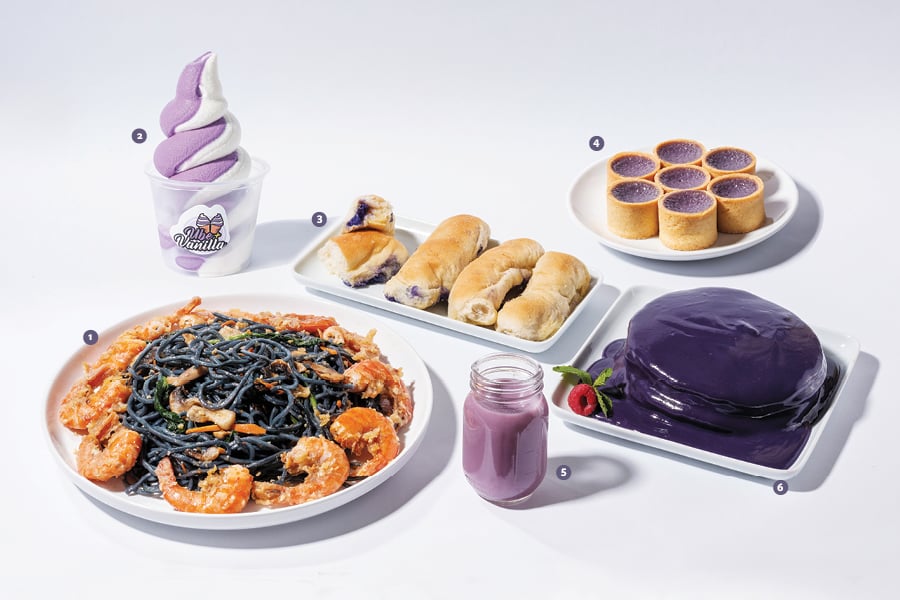 Turning food purple is just one thing ube does. This starchy root vegetable, also known as purple yam, has seen a rise in popularity over the past few years. A common ingredient in many Asian and African cuisines, ube is extremely versatile in both sweet and savory dishes. Whether you're in the mood for soft serve, Spanish rolls or even soju, we've got you covered with this list of our favorite ube treats from around O'ahu.
1. Ube Pasta, Adela's Country Eatery
Yes, you heard us correctly—ube pasta. Adela's Country Eatery in Kāne'ohe has been making fresh handmade pasta since 2019. Its menu also extends past ube to other unconventional pasta ingredients such as 'ulu (breadfruit), avocado and moringa. Although guests are free to mix and match different pasta noodles, sauces and toppings to create their own unique dishes, the owners recommend pairing their ube pasta noodles with tender lechón (crispy pork belly) and garlic. Of course, the ube noodles are a vibrant purple, and that makes the experience even more memorable. If you're still hungry after your meal, no problem. Adela's also offers a great selection of ube desserts like bread pudding, pie and cheesecake. 45-1151 Kamehameha Highway, Kāne'ohe, (808) 236-2366, adelascountryeatery.com
2. Ube Soft Serve, Chocolate + Vanilla Bakery
Served by itself or swirled with vanilla, this ube soft serve, which is vegan and dairy-free, is just the thing to take the edge off when it's hot outside. And any menu item (from bread pudding to panna cotta) can be served à la mode. 1115 12th Ave., Kaimukī, (808) 737-2462
3. Ube Spanish Rolls, Nanding's Bakery
Nanding's Spanish rolls are everything you could want in a snack—light, fluffy and buttery. And when paired with ube filling, these rolls are a delight. Three locations: 918 Gulick Ave. #1, Kalihi, (808) 841-4731; 3210 Martha St., Honolulu, (808) 367-1172; 94-216 Farrington Highway #B16, Waipahu, (808) 678-0828
4. Ube Tarts, Uber Factory
Uber Factory has been serving its famous ube tarts in Wahiawā since 2016. And these bite-sized treats taste just as amazing as they look. With a crunchy pie crust exterior and a smooth, custardy interior, these tarts offer the best of both worlds. But plan ahead—the early morning lines often wrap around the building, and it's not uncommon for Uber Factory to sell out of its treats before noon. 71 S. Kamehameha Highway, Wahiawā, restaurantji.com/hi/wahiawa/uber-factory. 
5. Ube Soju, Chingu Hawai'i
What better way to end your day than with a shot (or two) of refreshing ube soju from Chingu Hawai'i. Located across the street from the Neal S. Blaisdell Center, Chingu is a great place to go after a show—or even a day at the beach. Made fresh daily, Chingu's ube soju will be one of the best and most colorful additions to your evening in paradise. 1035 Kapi'olani Blvd., Honolulu, (808) 592-1035, chinguhawaii.com
6. Ube Pancakes, Yogurstory
Stacked high and smothered in a delicious house-made ube-coconut sauce, Yogurstory's iconic ube pancakes are definitely a treat you don't want to miss on your next visit to O'ahu. Not in the mood for pancakes? Yogurstory offers a decadent ube waffle, too. 815 Ke'eaumoku St., Suite 105, Honolulu, (808) 942-0505, yogurstoryhi.com