This Beachfront Property on Oʻahu is a Modern Marvel
Decked out from top to bottom, this modern home has limitless potential.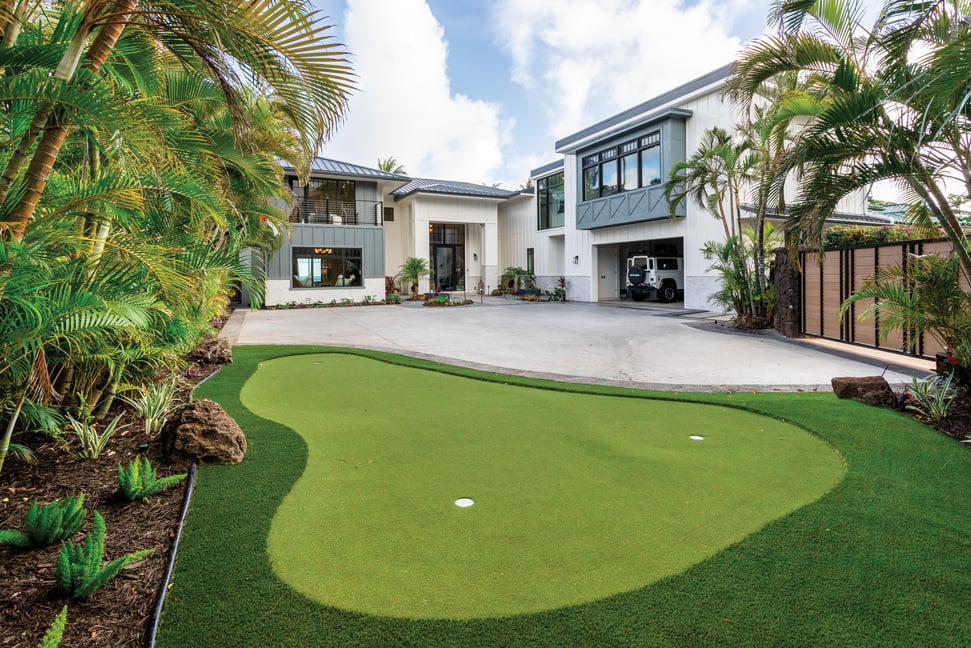 Just steps away from the sandy shores of Niu Beach, this oceanfront property provides ultimate luxury living for a family of five. Here, they enjoy the quiet privacy of their neighborhood while relaxing outdoors and taking in the ocean view. To them, it's paradise.
Their journey to blissful island living began when they purchased the property with intentions to complete a full home renovation before moving in. They hired Blueprint808 Architecture for full architectural services and All Things New as the general contractor and builder. "We were the central hub of renovating the project," says Richard Breaux of All Things New.
"The original design was a Mediterranean-style home with light and warm tones in color scheme, as well as the extensive use of natural materials such as ceramics and stone," shares Breaux. "The architecture had a lot of radius walls and roof lines with Monier tile roof." Overall, the home needed an update to fit its surroundings and the homeowners' desires. All Things New was able to create a complete 3D virtual tour of the home to provide a clear picture of each space during the renovation process.
"The vision was to build a contemporary plantation home that juxtaposed modern amenities with a comfortable coastal lifestyle," shares the homeowner. "It was important for us to pay homage to Hawaii's quintessential plantation homes, which boast charm and comfort while incorporating unparalleled luxuries one would expect from an executive estate. This home is incredibly sophisticated yet exceptionally inviting as evident in its finishes, which are timeless, elegant and livable."