This Hidden Maui Restaurant is an Under-the-Radar Treasure
The Restaurant at Hotel Wailea offers an intimate experience in a hidden Maui resort.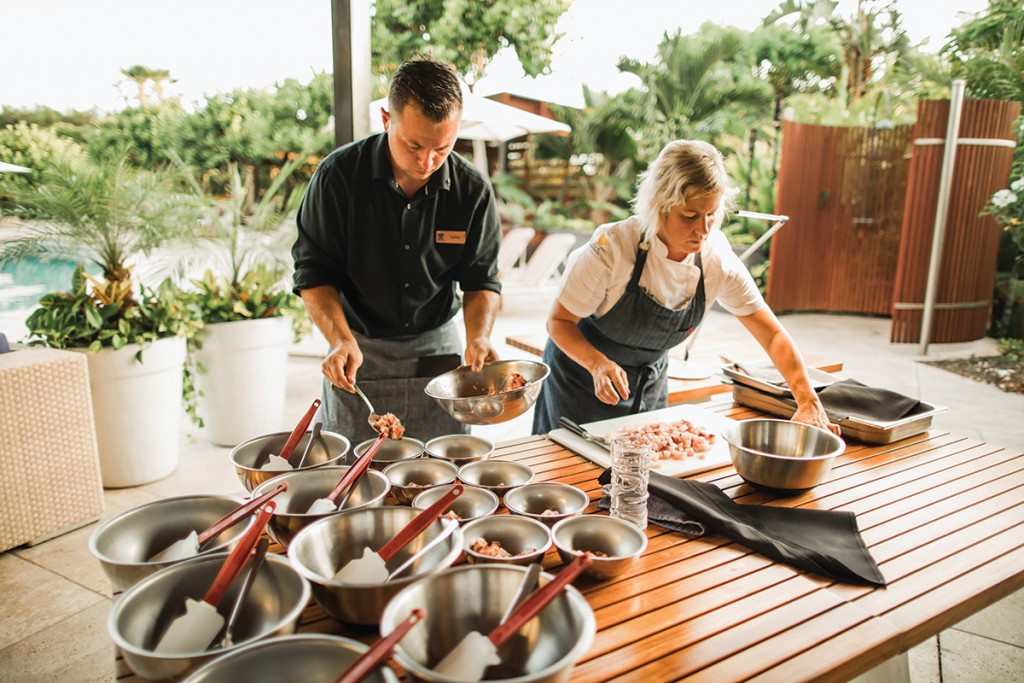 We've all heard it before. We've also probably said it ourselves, too: "This isn't what it used to be." And: "I remember when this place was less crowded." It's usually the first thing we say when we return to a place 10, maybe 20 years later. Except this time, I'm saying it a month—a month!—after my last trip to Maui. Just a few weeks ago, I was taking a beat-up shuttle bus to one of the scattered car rental lots to pick up my car. Now, a shiny tram whisks me to the giant, gleaming central rental car facility at Kahului Airport that seems to have sprung fully formed out of the pavement overnight, so new that the employees are having trouble figuring out the flow of the whole thing.
The world is changing rapidly, we all sigh, our remote paradises now flung open. Which makes arrival at The Restaurant at the Hotel Wailea feel like an especially treasured secret—proof that even in this day and age, there are still quiet corners of the world undiscovered.
The Restaurant is a dining room—not so much a room, but a lanai (balcony), with a garden below—in an intimate hotel. It sits at the top of the property, which slopes down to a collection of about 70 suites set alongside a stream. And beyond that are the beach resorts of Wailea. It's all less than a mile away, and yet, Hotel Wailea, tucked into the hill, feels almost as remote as Upcountry Maui.
The dishes served at The Restaurant reveal delightful surprises like the hidden benches and nooks tucked into Hotel Wailea's grounds. An appetizer of torched tuna is a play on nigiri sushi, the rice replaced with a rectangle of soft brioche, smeared with avocado and then crowned with a meaty slab of tuna, and all of it brushed in a dark soy glaze. Hamachi tataki arrives with little parasols of nasturtium leaves and rings of fresh hearts of palm, the slices of Pacific yellowtail molded around a cylinder of avocado, like the caterpillar roll found at sushi restaurants but inverted. The playfulness of the food eases any awkwardness that I feel at being the only solo diner among couples in such a swoony setting. Or maybe that was the yuzu cocktail, pleasantly bitter.
Hotel Wailea, as an adults-only resort, is romantic, of course, but it's more sassy than sappy. It's been that way from the beginning. The place was built in 1992 as a private club for wealthy Japanese, and judging by an ad from around that time, featuring a man in a smoking jacket and a woman draped seductively on a table in front of him, one can guess the sort of recreational activities the club was intended for. In 2008, Oahu-born Jon McManus, a real estate developer, bought the property in 2008 and turned it into Hotel Wailea, renovating it over the years. It's the first Hawaii hotel to receive the Relais & Châteaux designation, bestowed on unique, individually owned luxury hotels and restaurants. Unique indeed: The vibe at Hotel Wailea is African safari lodge meets Japanese Zen garden, where literal lovebirds roost in the rafters of the lobby while a unicorn floaty cruises in the pool below.
It's this sort of juxtaposition and unclassifiability that keeps Hotel Wailea under the radar. People who want beaches go to the island's beach resorts. People who want solitude go to Hana. The Restaurant's cuisine is hard to define, too—seared scallops with XO sauce and serrano ham, Peking-style duck breast with apple and curried cauliflower. And that in itself is the draw of the restaurant—the unexpected dishes Maui-born chef Zach Sato comes up with.
But The Restaurant isn't the only dining experience on the property. Events chef Krista Garcia, who worked at The French Laundry in Napa and The Mill House on Maui before arriving at Hotel Wailea, offers personalized seven-course dinners with wine pairings at the Treehouse, a secluded perch set in an orchard of mangoes and avocados and overlooking the sea. For a more casual vibe, there are weekly poke classes by the pool. For this, Garcia filleted a whole kampachi from Hawaii Island and we grilled thin slices of Maui venison over our own individual hibachi. She even brought in a Maui onion from her garden to add to the mix.
"You've done all the hard work for us," said one of the attendees, as half a dozen of us mixed our own poke and mingled with bottomless wine and beer.
It was here I discovered that one of the guests, from Beverly, Massachusetts, lives two houses down from my college roommate. She updated me on my former roommate's life, on soccer lessons with her son, and we sent her a selfie of us from the pool cabanas at twilight. And in that moment, in a world that can seem increasingly anonymous and crowded, it was suddenly just right.
The Restaurant is open from 5 to 9:30 p.m. daily, Hotel Wailea, 555 Kaukahi St., Wailea, Maui, (808) 879-2224, hotelwailea.com/rhw