This is the Craziest Shave Ice Treat We've Seen on Oʻahu
It's called the Ichiban and only Matsumoto Shave Ice in Haleʻiwa serves it.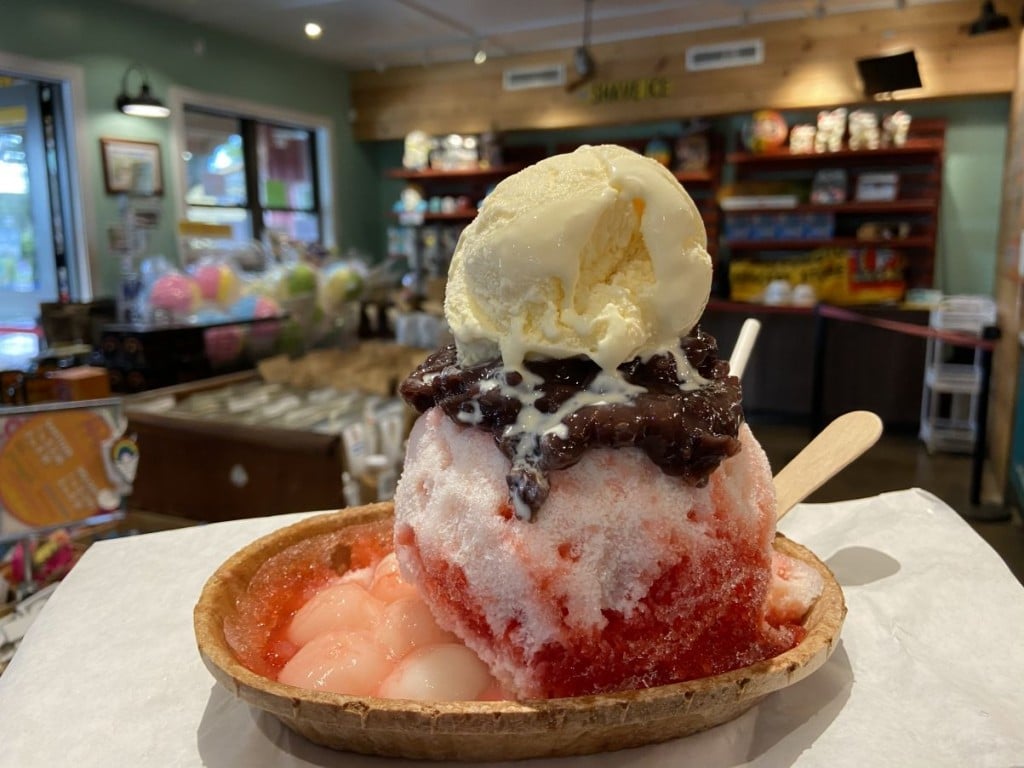 About five years ago, the iconic Matsumoto Shave Ice shop in Haleʻiwa expanded, more than doubling its size and its offerings. (It's still in the same spot in Haleʻiwa—it's just a lot bigger.)
SEE ALSO: 5 Changes We Love About Oʻahu's New Matsumoto Shave Ice Store
Now you can find more than 30 designs of Matsumoto T-shirts, shave ice plushies, pancake mixes, tote bags and even a Hot Wheels shave ice truck. The shave ice menu grew, too, to include sugar-free options and all-natural flavors like lilikoʻi.
But there's one treat that the 69-year-old shop introduced—and it's crazy unique.
It's called the Ichiban Special ($6). It's got a large helping of shave ice in any flavor—just one—topped with sweetened condensed milk, azuki beans (red beans cooked in sugar), balls of mochi (Japanese rice cakes) and a scoop of vanilla ice cream, all served in an edible waffle bowl.
Yes, edible.
Talk about sustainable!
View this post on Instagram
The bowl isn't very sweet, so it works with the super-sweet concoction it's holding.​ Co-owner Noriko Matsumoto says she gets the bowls from Japan; these are actually used to hold soba noodles. It stays sturdy for up to two hours, we're told. (Ours didn't last that long—because we ate it!)
It may sound odd to combine ice cream with beans and mochi, but trust us, it works.
The massive frozen treat is one of Matsumoto's top sellers.
9 a.m. to 6 p.m. daily, 66-111 Kamehameha Highway, Suite 605, Haleʻiwa, (808) 637-4827, matsumotoshaveice.com