This Kailua Shop Brings Montreal-Style Bagels to Oʻahu
Empty Elle Bagels features Hawaiʻi-grown ingredients on its smaller, sweeter bagels.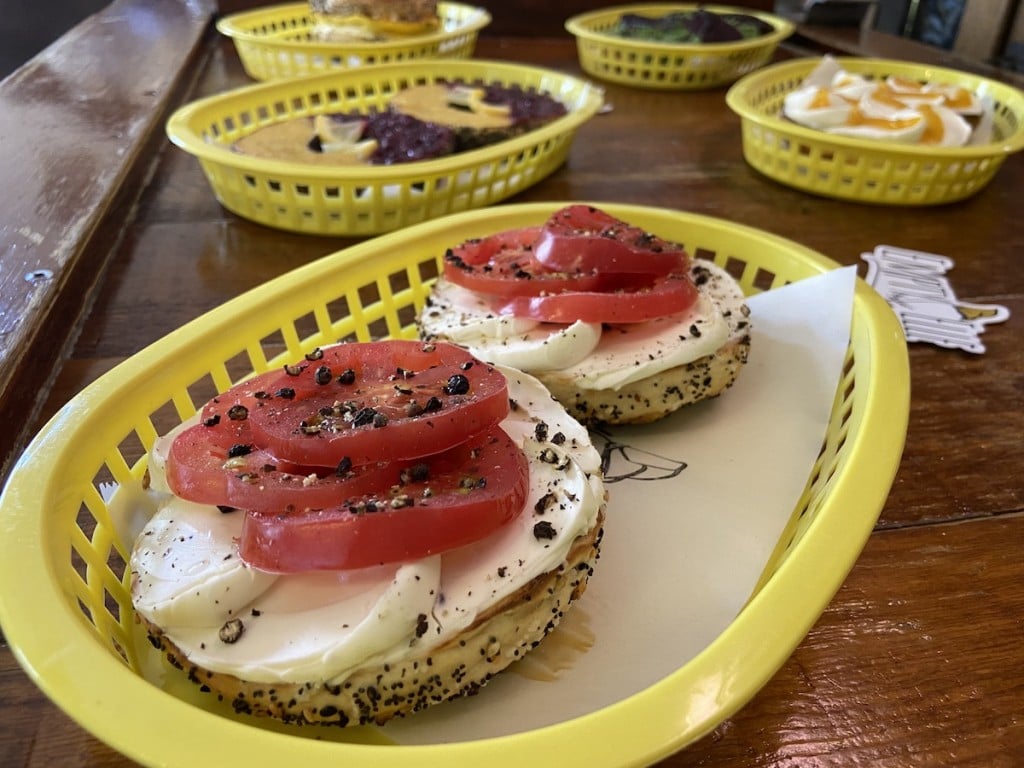 Tim Veling has always loved bagels—but he got hooked on Montreal-style bagels while in New Zealand, eating at the famous Best Ugly.
For years he thought about opening a bagel shop on Oʻahu that specializes in the sweeter, smaller bagels Montreal is known for.
When the COVID-19 pandemic hit, Veling, who had been working at Hawaiian Airlines, decided to go for it. He was already running Grace in Growlers, a charitable craft beer tasting room in Kailua on Oʻahu's windward side, with his wife, Holly. So after six months of testing and pop-ups, Veling perfected the recipe, finalized the concept and ordered a custom retro-style camper out of which he serves his hand-rolled bagels.
"We're really trying to showcase the bagels, keep it traditional," says Veling, who opened Empty Elle Bagels earlier this year. ("Empty Elle" sounds like MTL, the acronym for the Montréal–Trudeau International Airport.)
So what's the difference between Montreal- and New York-style bagels? (It's a long-standing rivalry.)
New York-style bagels are soft, chewy and doughy. Montreal versions tend to be smaller, denser and sweeter. Both are boiled before they're baked, but Montreal bagels are boiled in water that has been sweetened with honey. Montreal bagels are usually wood-fired and heavily seeded, too.
And the Empty Elle Bagels are even more unique: Its dough is made with Hawaiʻi honey and topped with locally grown ingredients whenever possible.
The popular Lemon features lemon butter from Hawaiʻi Island and black raspberry jam from Kula on Maui. The Beet is topped with Waimānalo-grown beets and Waialua goat cheese with Oʻahu honey and a balsamic drizzle. The simple Sweet—one of my favorites—combines cream cheese with Big Island lilikoʻi (passion fruit) jam. Bagels run from $7.50 to $11.50.
There are a few unusual combinations, too. The Spicy features freshly made hummus and slices of Andy Bueno's spicy pickles—made with very spicy ghost peppers, FYI—on a toasted Everything bagel. The Black dessert bagel pairs Maui black raspberry jam and Big Island dark chocolate coffee butter on an open-face black sesame bagels made with activate charcoal to get that sleek dark hue. Very cool.
In the morning Creature Coffee Shop sets up a cart with cold brew and espresso drinks. (Get the horchata latte.) And in the evening order your bagel—the JTL Toastie is my fave—with a pint of craft beer from Grace in Growlers.
Everyone wins!
143 Hekili St. (inside Grace in Growlers), Kailua, Oʻahu, emptyellebagels.com, @emptyellebagels