This Mom-and-Pop Shop is Known for Building Better Bentos
The beloved Kawamoto Store in Hilo has been satisfying customers with shrimp tempura, Korean chicken and maki sushi for more than seven decades.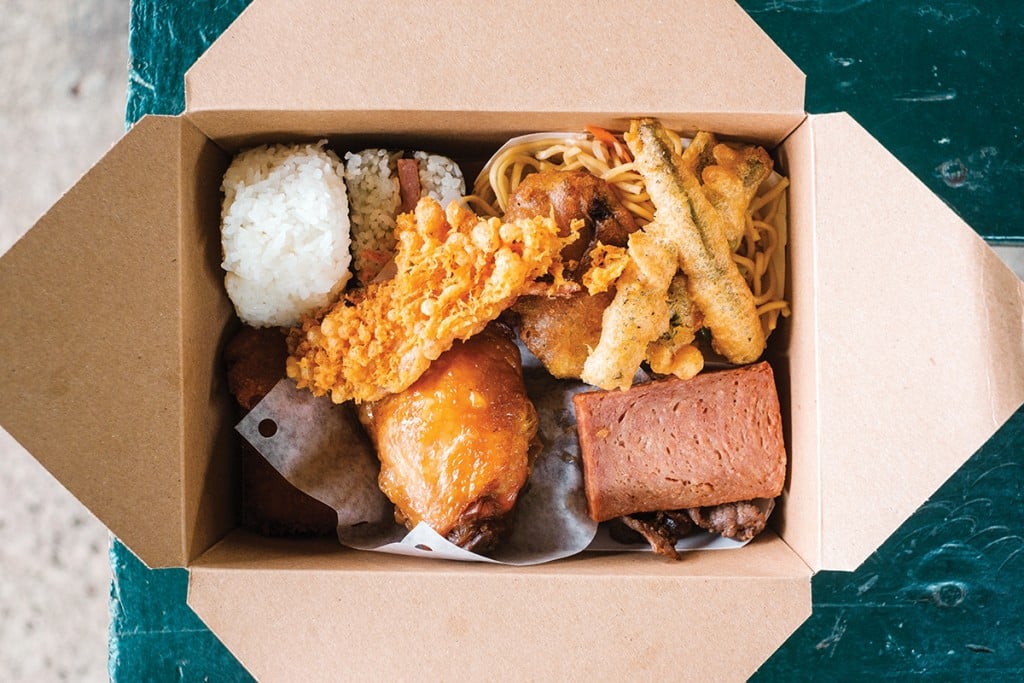 It's 5:30 a.m. on a Wednesday morning in Hilo. First light is just beginning to break through the clouds in hues of amber and apricot. A traffic light turns green for no one along this quiet street. I'm still wiping the sleep from my eyes, but already a dozen employees have been hard at work for two hours, prepping for another busy day at one of Hilo's oldest and most popular okazuya, Kawamoto Store.
There's already one hungry gentleman waiting in his car. Even though the lights are off, he rolls down the window and asks, "You open yet?" when Celeste Nathaniel, the business manager, ushers me inside. The line starts as soon as the doors open at 6 a.m. and it doesn't stop until near-closing time at noon. It's like this every day, Tuesday through Saturday, rain or shine.
I've been coming to Kawamoto Store (simply "Kawamoto's" to locals) to grab a quick bento lunch or beach potluck meal for as long as I've lived in Hilo, which is close to 15 years. Locals know there's always a line with limited street parking, so if you drive by and happen to see a spot out front, hang that U-ey and grab it quick! And when it comes to okazuya, you want to go early for the good stuff. If you arrive close to the lunch hour, the most coveted items will be gone and you "take what get," says Nathaniel.
Okazuya in Hawai'i (okazu—the Japanese word for "small side dish," and "ya," meaning store) are quintessential build-your-own bento spots. Trays of food piled high in metal pans are sold by the piece, typically $1 to $2 per item. Want six Spam musubi for lunch? Sure. How about seven shrimp tempura, two cone sushi and three meatballs? Why not! Some patrons choose their favorites weekly without divergence; others let their eyes do the picking and end up with one of everything.
Okazuya is a unique part of our state's food culture, dating back to the era of plantations, when the day's lunch would be packed before dawn to be eaten hours later in the fields. All items sold at an okazuya are meant to be enjoyed at room temperature: maki sushi, shrimp tempura, nori chicken, nishime, shoyu hot dog, fishcake and namasu—all arranged neatly in a paper-lined cardboard box at Kawamoto Store, taped shut and secured with a rubber band.
Hawai'i okazuya is not representative of Japanese culture but instead is a multicultural cornucopia of Chinese, Filipino, Hawaiian and Japanese dishes. It's not uncommon to find pork adobo (Filipino) alongside chow fun (Chinese), shoyu pork (Okinawan) and lomi salmon (Hawaiian) at many Hawai'i okazuya establishments.
The original wooden slat-screen display at Kawamoto Store brings the nostalgia of "small-kid time" comfort food and things that never change. Maneki-neko (lucky cat figurines) and generations-old Japanese dolls in glass cases (Nihon ningyo) are the only décor to speak of, save a few other gifted trinkets on wooden shelves by the door. A handwritten note on blue paper taped to an orange traffic cone reads, "Order here" with a smiley face, and cheerful employees rotate customers through the line quickly, handwriting their orders on pieces of paper before loading up their boxes.
Kawamoto Vegetable Store was established in 1947 as a mom-and-pop neighborhood mart, selling groceries and produce from local farmers. It also offered bento lunches to the plantation workers. When larger supermarkets opened nearby, okazuya became the focus.
In the kitchen, 85-year old Kimichika Horiuchi has been making shrimp tempura since 3:30 a.m., something he's done almost daily for more than 50 years now. The recipe is his own creation. Today, I find him in his usual spot, back by the fryer, surrounded by trays of golden battered shrimp topped with crunchy tempura flakes. Dressed in khaki pants, a Kawamoto Store T-shirt and a paper cap, he methodically flips each shrimp in two large pots using wooden chopsticks. "Doesn't it burn your hands?" I yell over the noise of sizzling oil as he flicks tempura batter into the pot. Horiuchi only smiles. Later, he tells me proudly: "These are the best okazuya-style tempura on the island. The recipe hasn't changed in 50 years so people know it." He brings me a freshly fried shrimp on a napkin. It's crunchy and delicate, with just a thin layer of batter so the shrimp is still the star of the show. Some days, Horiuchi fries more than 600 shrimp tempura.
He made a promise to his in-laws—the original owners, Takeji and Masako Kawamoto—that he would continue on with the store when they retired. Horiuchi and his wife had four children of their own, but they all embarked on different careers, so he was faced with the same challenge as many multigenerational establishments in Hawai'i: Who will carry on the family business? That's when Celeste Nathaniel entered the picture. Working at Kawamoto's was Nathaniel's first job at 16. She was classmates with Horiuchi's daughter. Fast-forward more than 20 years when Nathaniel, her sister Darleen Shimabukuro and mom Cheryl Kuali'i agreed to carry on the legacy of Kawamoto Store. That was in 2001.
Nathaniel's business plan was to stay as true to the original establishment as possible, with just a few changes to complement the existing business. She opened the store earlier at 6 a.m. to catch the construction crews before they went to work. She made the traditional recipes in greater quantities to keep up with the crowds, and added new items to the menu including, Spam musubi, Korean chicken and nori chicken. The kitchen turns out trays of food constantly—500 nori chicken, 1,000 pieces each of maki sushi and Korean chicken on Saturdays.
"I think because the variety is pretty big, people can eat it every day," she says. "But some eat the same thing every single day." If Kawamoto's closes for vacation, the regulars get mad. "They ask me, 'Do I look skinny? Because I wasn't eating while you were gone, you know!'" laughs Nathaniel.
The sound of the wooden display screens sliding back and forth is constant. "Korean chicken!" yells one of the front-end workers when the tray is close to empty. "That's our Portagee P.A. system," jokes Nathaniel. "They call out what we need to the kitchen."
Kawamoto's runs like a well-oiled machine—one big family—and it truly is family with Nathaniel's mom, sister, husband, daughter, auntie, cousin and neighbors all on-staff. There are only three okazuya places left in Hilo, says Nathaniel: Hilo Lunch Shop, Asami's Kitchen and Kawamoto Store. "This whole island used to be plantations and there used to be a lot more places like us, but they died because there wasn't anyone to take it over. When you walk in the door at Kawamoto's, you have a feeling like you're stepping back in time. We wanted to keep it the way people remember it."
This story was originally published in our 2022 Summer issue. Buy a copy here.