This New Pizzeria on Maui Highlights Local Ingredients
Marlow is chef Jeff Scheer's first solo venture.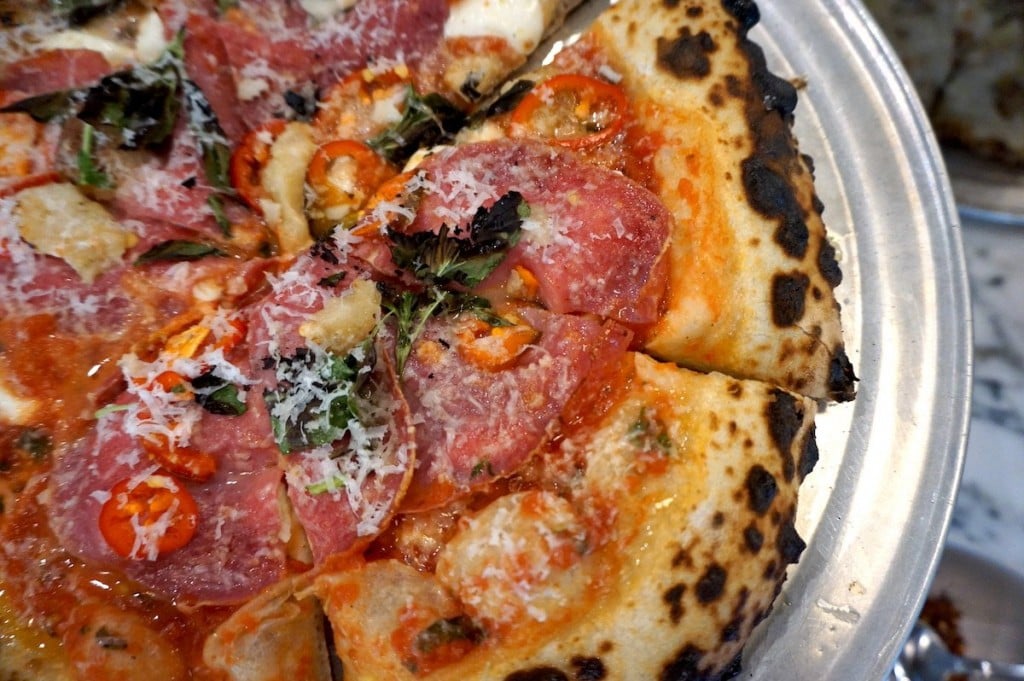 At Marlow, wood-fired sourdough pizzas are the star of the menu, highlighting local broccolini, tomatoes, potatoes and meats. Add the fact that it's the first eatery from Jeff Scheer, one of Maui's best known chefs, and you get why the Upcountry Maui spot is drawing buzz just two weeks after opening.
View this post on Instagram
The 10 pizzas follow more traditional Italian profiles and are divided into five white-sauce pies and five red-sauce ones. Produce comes from Kupa'a Farms in Kula and Lapa'au Farm in Olinda. Ten percent of the wheat is from Scheer's own yard (he mills it) and the rest from Italy. "I've always loved baking and dough work," he says. "Our pizzas are different—softer, chewier. The dough is really alive."
While the funghi pizza with Lapa'au oyster mushrooms ($24) is the top seller, the carnivore in me fancies the Calabrese pizza ($25) with salami, mozzarella, serrano chiles, basil and garlic confit. I also love the salsiccia ($22), topped with pork sausage, caramelized onion and mozzarella. With each pie I can taste the freshness of the ingredients against salty, meaty, deeper flavors. Notable starters include the meatball en sugo ($15) and burrata with local tomatoes ($16).
The restaurant is in Pukalani's new Kulamalu Plaza and has a modern, clean, casual vibe. There's a mix of indoor seating, bar seating and outdoor tables on a patio. Every table allows a view of the open kitchen, where chefs make the dough, top the pizzas and slide them into the wood-fired oven, where they cook for just two minutes. Most diners seem to know Scheer, who waves hello as he works on the pies.
Scheer's familiarity with pizza fans took off during the pandemic, when he and his wife, Kaili, sold pizzas they made in their backyard wood-fired oven on Instagram. At that point Scheer had worked as executive chef at Travaasa Hana and The Mill House in Waikapū, which he transformed into a destination restaurant; he also had a high-end catering company. The Scheers were already planning to open their first restaurant, named after baby daughter Marlow. A neighborhood pizza place seemed like a natural.
Marlow opened for takeout initially and began dine-in service last Tuesday. Scheer plans to expand the menu with seasonal starters like oysters, crudo and roasted vegetable dishes. But pizza—and family—will always be the focus.
Open daily from 4:30 to 9 p.m., 30 Kupaoa St., Pukalani, (808) 868-3366, restaurantmarlow.com, @restaurant.marlow