This O'ahu Food Truck Makes One-of-a-kind Musubi
As long as Musubistro and its fish katsu musubi are there, massive wintertime waves aren't the only reason to head up to the North Shore.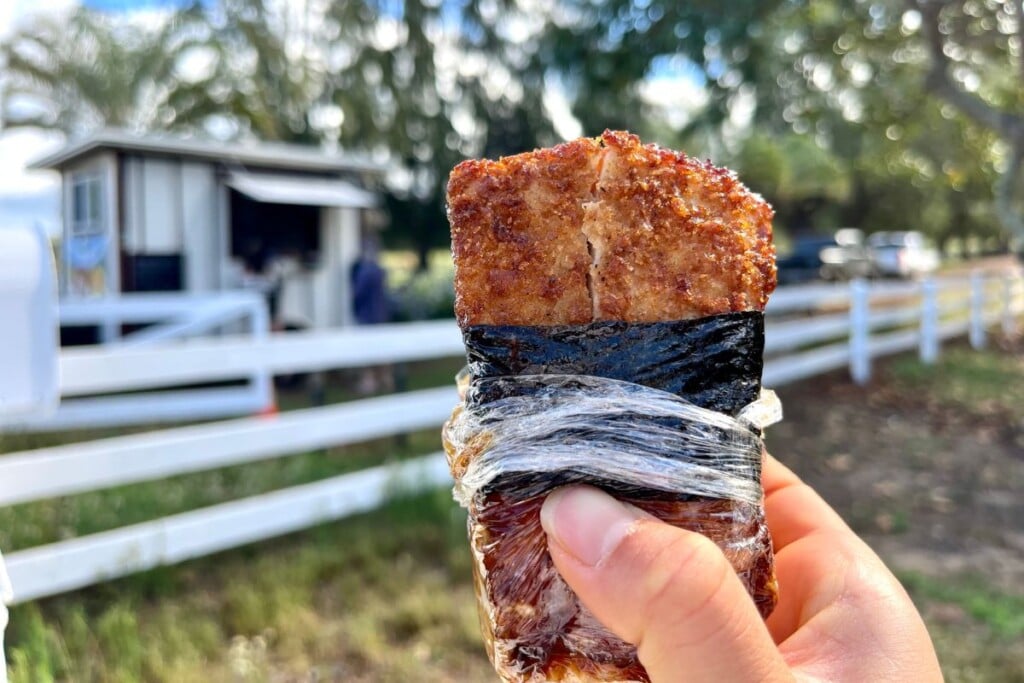 During the winter months, surfers and spectators flock to Oʻahu's North Shore for the monstrous waves. And after a few hours at the beach, they all swarm the area's shrimp trucks for lunch.
But today, a clear Sunday in December, I've got one thing on my mind, and it doesn't involve massive waves or shrimp.
As I approach Laniākea Beach, I see a line of cars parked on both sides of the street. While all these people came for the waves, I came for the musubi.
I've been a pescatarian for a few years and there are not many meat dishes I miss eating. However, there is one: Minute Stop's chicken katsu musubi. This local gas station chain serves a mean musubi with a piece of hot, crispy fried chicken lathered in katsu sauce placed over a large block of rice, all wrapped with a sliver of nori. I salivate just thinking about the combination of tender meat and rice all coated in a mouthwatering sweet and salty sauce.
So, when I was scouring the internet for eateries on the North Shore and discovered a food truck focused on making fish katsu musubi, I was determined to find it.
Located in front of Kawailoa Ranch on Kamehameha Highway, I spot the food truck. In a clean white trailer, Musubistro is parked on the mauka side of the road near Laniākea Beach. The food truck is only open on the weekends from 10 a.m. until it sells out of its signature fish katsu musubi. The founders, Miles Alexander and Caitie Hodel, say that's usually a little before 3 p.m. However, if a large North Shore swell has drawn a particularly hungry crowd, it can be closer to 12:30 p.m.
I arrive 10 minutes after Musubistro opens and two regulars have already placed their orders. Unlike grab-and-go musubi from most convenience stores—including Minute Stop—Musubistro rolls its musubi for every order. After a short wait, my musubi is served piping hot. The fish is crispy, a little flaky and glazed with a generous amount of chipotle aioli and unagi sauce. It's exactly what I want. The thick bed of rice soaks up the slightly sweet sauce and with every bite, there's an ideal ratio of soft rice to tender fish (which are air fried!).
And this fish wasn't some frozen slab of cod; it was caught just a few miles offshore by local fishermen. What's available depends on the season; during the winter, it's typically mahi while in the summer it's ʻahi. And some days, the musubi are made with fish that rarely appear on restaurant menus but are tasty nonetheless, like ʻomilu (bluefin trevally), which Alexander and Hodel say is a hit with their customers.
At Musubistro, the focus is on fresh ingredients from the sea. Hodel recalls during the first few months Musubistro was open, Alexander would fly to Hawaiʻi Island to spearfish. He'd return to Oʻahu with fish in a cooler; that fresh catch would then be used to prepare the popular musubi.
Alexander no longer makes frequent treks to the Big Island but he's still catching fish on the North Shore for the food truck's musubi. He also purchases fresh fish from fishermen he knows well in Haleʻiwa. It was this fundamental idea that originally sparked Musubistro: working with other small businesses to serve local comfort food, with sustainably sourced ingredients.
With a laugh, Hodel says, "It's pretty rootsy." A tremendous amount of work is involved for just a two-person team, from preparing the fish and making the musubi to managing the finances. And both Alexander and Hodel work full-time jobs during the week. But they're diligent entrepreneurs. They shared a dream of opening a restaurant and during the Covid-19 pandemic, they planned and executed it. In August 2021, with the help of Alexander's hānai father, the young couple started building a trailer. "A lot of hands came together," Hodel says. By the start of 2022, Musubistro was open for business. After one year, Musubistro already has loyal customers from around the island who head to the North Shore every weekend for its fish katsu musubi.
Alexander and Hodel keep their menu simple. Alongside their popular fish katsu musubi, diners will find Spam musubi (also rolled to order), the cupcake of the day, pink lilikoʻi lemonade and an iced coffee brewed with cinnamon and honey. "We tried a bunch of specials, but everyone really loves the fish musubi," says Hodel.
And it would be a serious mistake not to try it.
For more information, visit @musubistro_.