This video of 'Hawaii Aloha' is the most moving version you'll see
Dozens of noteworthy local artists are joined by more than 1,000 keiki (youth) from 10 Hawaiian charter schools for this rendition of a timeless song.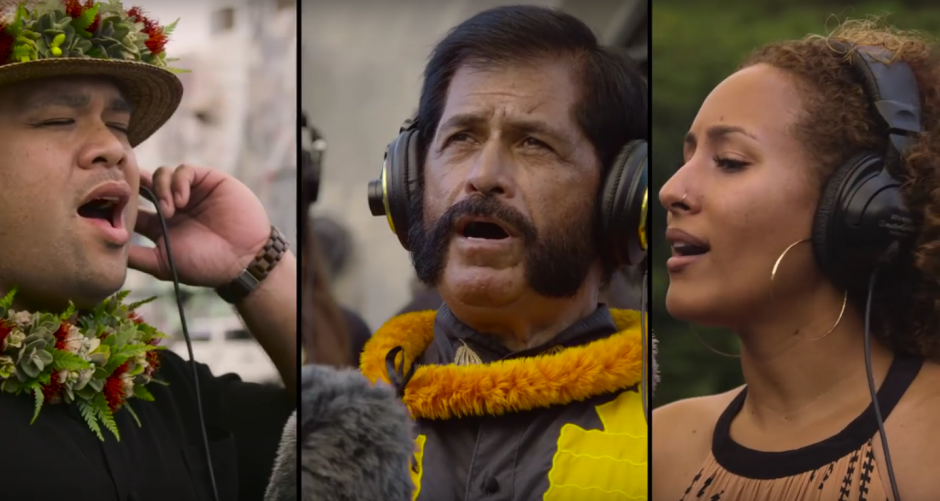 A timeless Hawaiian mele (song) receives a beautiful live version spanning the Islands. Seriously, stop what you're doing and take a real life moment to pause and press play for this.
Dozens of noteworthy local artists—like Cyril Pahinui, Ledward Kaapana, Paula Fuga, Imua Garza and Kimie Miner—from across genres come together and are joined by more than 1,000 keiki (youth) from 10 Hawaiian charter schools for this new rendition of "Hawaii Aloha."
Hawaiian nonprofit Mana Maoli teamed up with Playing for Change and 4 Miles as part of their Mana Mele Project, which uses the world's first solar-powered mobile studio and multimedia academy to gather and produce these recordings in support of Hawaii music education. Their mission is "designed to empower youth, support artists and honor elders."
"Hawaii Aloha" is one of the most recognizable songs here, a classic Hawaiian anthem. If you're born and/or raised in Hawaii, you likely have memories of learning all the words in school and singing it to conclude gatherings both formal and informal throughout your life—everything from the ends of concerts to political gatherings. Traditionally, during the final refrain everyone holds hands, raises and sways them in the air.
It was written in the 19th century by Rev. Lorenzo Lyons, who lifted the music from a hymn. Lyons was a beloved missionary, inducted into the Hawaiian Music Hall of Fame in 1998, and a strong, vocal advocate for the "the grand old, sonorous, poetical Hawaiian language," considering it "an interminable language," one that "may well be classed among the best." He spoke out often in support of its revitalization, "the thought to displace it, or to doom it to oblivion by substituting the English language, ought not for a moment to be indulged."
Native Hawaiians and Hawaii residents revere "Hawaii Aloha" as a call to action and tribute to its native and local culture. You can hear, see and feel the unity in this video, recorded in 27 locations (how many do you recognize?) across the Islands.