Tia Carrere, Daniel Ho first album artists to win Hawaiian music Grammy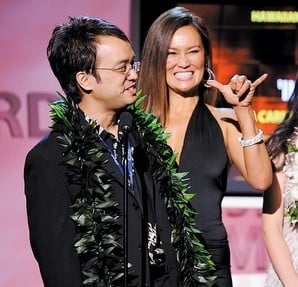 And the Grammy goes to … the actual recording artists of a nominated album.
Hawaii-raised actress/singer Tia Carrere and musician/producer Daniel Ho yesterday became the first recording artists of a nominated disc to win the Grammy for Best Hawaiian Music Album. The duo's Ikena overcame a four-consecutive-year sweep of multi-artist slack key guitar-based compilations in the category—Grammys that went to producers of those compilations, not the recording artists on them.
Ho's win was his first in the category as a recording artist. He had taken home the Best Hawaiian Music Album award the last three years as part of production teams for the albums Treasures of Hawaiian Slack Key Guitar (2008), Legends of Hawaiian Slack Key Guitar (2007) and Masters of Hawaiian Slack Key Guitar, Vol. 1 (2006).
The award was presented to Carrere and Ho at a ceremony at the Los Angeles Convention Center before the Grammy Awards prime-time awards telecast. Carrere was co-host of the ceremony.
Other nominated albums in the category were vocalist Amy Hanaialii's Aumakua, slack key guitarists Ledward Kaapana and Mike Kaawa's Force of Nature, and the multi-artist slack-key based compilations Hawaiian Slack Key Kings: Master Series Vol. II and The Spirit of Hawaiian Slack Key Guitar.
Ho was a co-producer on Spirit of Hawaiian Slack Key Guitar. That album—the latest in the three-time Grammy-winning collection of discs recorded live at Maui's long-running Masters of Hawaiian Slack Key Guitar concert series—had been considered the front-runner for a win this year.
But it was Ikena—Carrere's second nomination in the Hawaiian music category, after receiving a nod last year for the album Hawaiiana—that scored a surprise win.
Hawaiian music industry pundits will likely argue whether Carrere—prior to her two Hawaiian language albums, best known for a brief '90s flirtation with dance-pop, a stint on Dancing with the Stars, and two Wayne's World flicks—deserved the win over three-time nominee Amy Hanaialii. They may also lament that the first recording artist win in the category went to a vocalist new to Hawaian language music, and not more entrenched former nominees such as Kealii Reichel, the Brothers Cazimero, Hookena and Raiatea Helm. Still others will complain that Carrere and Ho no longer even live in the Islands—both are now longtime Southern California residents.
Me? I'd advise such pundits to never underestimate the power of pop culture notoriety and name recognition in any nationally-televised awards competition voted on by THOUSANDS of industry peers. And that would go double for a competition that once bestowed the first-ever Grammy for Best Hard Rock/Metal Album to flute-toting rock oddballs Jethro Tull.
Congratulations to the winners.