Tia Carrere Inspires Cocktail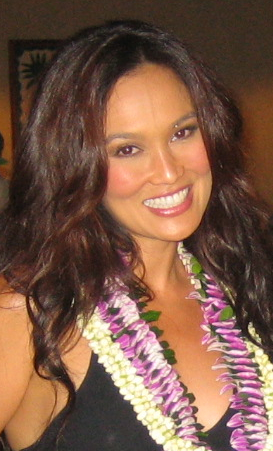 If you thought the Mai Tai was a hit, try the "Pua 'Olena," a cocktail inspired by a song on Tia Carrere's Grammy-nominated Hawaiiana album.

Each year, bartenders from Hawaii's Outriggers Hotels and Resorts create drinks, inspired by the Grammy-nominated albums in the Hawaiian category, for the Outrigger's Hotels and Resorts' fourth annual "Signature Drink Contest."

Last night, Bob Melton, a bartender of Chuck's Steakhouse in Waikiki, took top honors for the second year in a row. His lilikoi-guava-lychee cocktail concoction was inspired by Tia Carrere. "The way Tia sings Pua 'Olena inspired me to make a drink seeking the same sweet smell and essence of the 'olena blossom," says Melton.

Here's his winning recipe, full of Island flavors:

Pua 'Olena
1 oz. Yazi Ginger Vodka
¾ oz. Malibu Coconut Rum
½ oz. Sohi Lychee Liqueur
1 oz. Lilikoi Juice
1 oz. Guava Juice
½ oz. Kiwi Fruit Juice

Mix all ingredients in a shaker filled with ice. Shake to chill and strain in to a chilled martini glass.

(BTW: We got Melton to make us one. It rocks.)

Besides Carrere, other nominees for the Hawaiian Grammy are
Keola Beamer's Ka Hikina O Ka Hau (The Coming Of The Snow)
Raiatea Helm's Hawaiian Blossom
Cyril Pahinui's He'eia
Treasures of Hawaiian Slack Key Guitar produced by George Kahumoku Jr., Daniel Ho, Paul Konwiser and Wayne Wong.

For a complete listing of the Grammy Award nominees, click here. The awards will be aired Feb. 10, 2008 at 8 p.m. ET/PT on CBS.

As the winning bartender, Melton will travel to Los Angeles to serve his drink at a special Grammy Awards party.