Tommy Bahama builds an island in Waikiki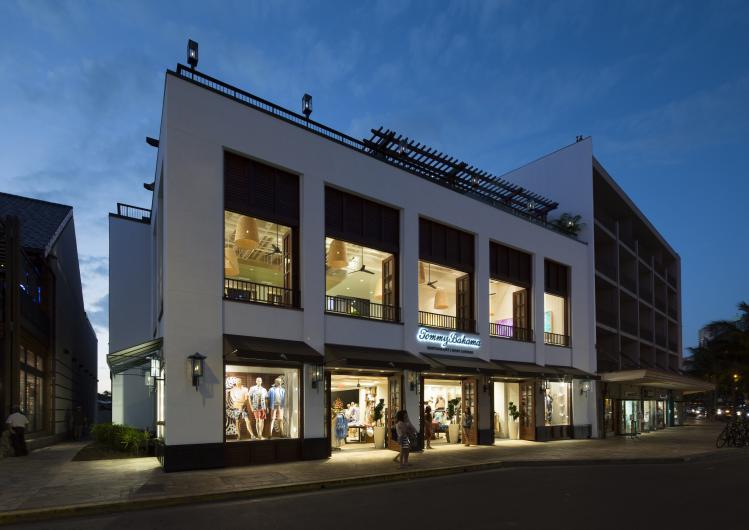 It's called an "island" in the Tommy Bahama universe: a three-story retail location with a store on the ground floor, restaurant on the second and rooftop bar up top. The island-inspired, lifestyle brand just opened one in Waikiki on Beach Walk, occupying the old Hawaiian Island Creations/Burberry space. Although there was a surf shop and luxury brand located at the same address, Tommy Bahama did a beautiful renovation. There are also two other stores with built-in restaurants on Hawaii Island and Maui, but this three-level, 19,200-square-foot Tommy Bahama Island in Waikiki is now the flagship location.
"This [is] the most elaborate location we've ever built, which is an indication of what Waikiki and Oahu mean to Tommy Bahama," says Rob Goldberg, executive vice president of marketing. "The spirit of aloha has been foundational to everything we do as a company, so to be able to offer a complete Tommy Bahama experience in the heart of the Islands allows us to share that spirit in the perfect setting."
The Tommy Bahama store on the ground level will stay open as long as the restaurant or rooftop bar is serving at night. That means if someone spills a glass of merlot on you upstairs, you can easily go down the spiral stair case and purchase a new island wear outfit. On the way up or down stairs, you will notice the impressive living wall on the second floor of the restaurant, which spans 14 feet by 55 feet and features native Hawaiian tropical plants.
In addition to the foliage on the second floor, there is also a smaller living wall on the rooftop bar that is U.S.D.A. certified organic with rosemary, sage, basil, thyme, kale and lemon balm, and these ingredients are used in the menu. The rooftop bar also features a fire pit surrounded by sand as well as outdoor dining tables made out of reclaimed wood from North Shore-based furniture company, Foundwood & Monkeypod Creations. They also made the 14-foot, private dining room table, the benches in the hostess area on the second floor and the benches in the dressing room. Adding to the ambiance and increasing the cultural integrity of the space are three traditional surfboards designed by Hawaiian historian and waterman, Tom "Pohaku" Stone in the store and restaurant.
"Tommy Bahama has a rich history in Hawaii," explains Goldberg, "and we're so excited to be able to share our story with our loyal fans in Waikiki."