Top 5 favorite filmed-in-Hawaii movies: HAWAII Magazine Facebook poll results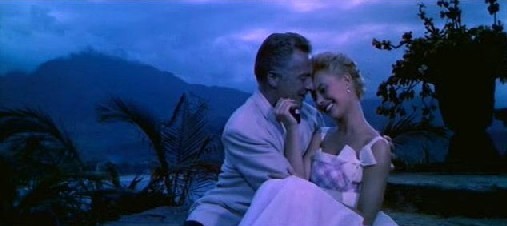 We've counted the votes from our latest HAWAII Magazine Facebook ohana poll question: What's your favorite Hawaii-filmed movie? The top vote-getters are on the pages ahead. Our in-the-know ohana weighed in with votes for nearly 40 filmed-in-the-Islands movies. Votes were cast for everything from classics, such as the romantic musical South Pacific (1958) (pictured, above) and the drama From Here to Eternity (1953) to more recent action-adventure releases, such as Jurassic Park (1993) and Battleship (May 18, 2012). Votes also came in for comedies, such as Gidget Goes Hawaiian (1961) and even for a few positively loopy productions, such as Goin' Coconuts (1978), a Donny and Marie Osmond caper movie. Mahalo for the poll picks!
If you're not already a part of our Facebook ohana, you're cordially invited to take part in on our next poll. Just click here then press the "like" button at the top of our Facebook page. You'll then become part of our HAWAII Magazine Facebook ohana and get our "Hawaii favorite" poll questions as soon as we post them. You'll also get instant updates on your Facebook wall when we post our daily HawaiiMagazine.com stories and features.
We'll be posting our next ohana Poll question on HAWAII Magazine's Facebook page in the days ahead. OK, here we go. Here's the top five countdown of our Facebook ohana's favorite Hawaii-filmed movies.
No. 5 (tie)

BLUE CRUSH (2002)
Filmed almost entirely on, near and even under the world-famous surf breaks on Oahu's North Shore, Blue Crush follows the fictional tale of a trio of 20-something surfer girls, focusing on a former top amateur surfer (Kate Bosworth) as she seeks redemption in the waves after a near-drowning derails her rising career. The women share a beach house near the waves and pay the rent by holding down low-profile jobs at an area hotel. Stunning surf cinematography.

FORGETTING SARAH MARSHALL (2008)
Billed as the "ultimate romantic disaster movie, Forgetting Sarah Marshall revolves around a music composer for a TV show (Jason Segel) who vacations in Hawaii after a breakup with his longtime girlfriend, Sarah Marsall (Kristen Bell). Upon arriving at the Turtle Bay resort on Oahu's North Shore, the heartbroken composer finds his ex-girlfriend vacationing there, too, with her new boyfriend (Russell Brand). Hawaii serves as a beautiful backdrop for this romantic comedy.
SOUL SURFER (2011)
This biopic of Hawaii pro surfer Bethany Hamilton (pictured, left) tells the story of how she taught herself to again surf competitively after losing her left arm in a shark attack at age 13. The title, Soul Surfer, is a reference to the description of someone who surfs for pleasure, as well as a nod to Hamilton's Christian faith. Much of the movie was filmed on Oahu's North Shore on and on Kauai, where Hamilton's family lives. Hamilton is played by AnnaSophia Robb (pictured, right).
No. 3
BLUE HAWAII (1961)
This hip-swiveling musical features Elvis Presley as Chadwick Gates, a tour guide and Great Southern Hawaiian Fruit Company's reluctant heir apparent. He memorably sings Ke Kali Nei Au (The Hawaiian Wedding Song) at Kauai's now shuttered Coco Palms Resort. Some Blue Hawaii scenes were filmed at the Kaiser Hawaiian Village Hotel in Waikiki (now a very different Hilton Hawaiian Village), Hanauma Bay and in central Oahu's then-vast pineapple fields.
No. 2
THE DESCENDANTS (2011)
Filled on Oahu and Kauai and packed with a cast of compelling Hawaii characters, The Descendants follows Matt King (George Clooney) — a wealthy landowner, husband and father of two girls — who is forced to reexamine his life and relationships in the after his wife is injured in a boating accident near Wakiki. A descendant of a 19th-century Hawaiian princess, King struggles to deal with his wife's comatose condition while also learning that she had been having an affair. Earlier this year, the movie picked up an Oscar statuette for best screenplay. The screenplay is based on the best-selling novel by Hawaii writer Kauai Hart Hemmings.
No. 1
50 FIRST DATES (2004)
Our Facebook ohana selected this Adam Sandler-Drew Barrymore romantic comedy as their favorite Hawaii-filmed movie. Why? We're betting that it was a combination of the movie's sweet-and-goofy fictional story combined with compelling Hawaii greenery and shorelines. More than three-quarters of the film footage in 50 First Dates (some 76 minutes of screen time) spotlights rustic country scenery along Oahu's windward side — from Bamboo Ridge, Waimanalo and Makapuu to Kaneohe Bay and Kualoa Ranch in Kaaawa.