Top 5 favorite Hawaii family-fun beaches: HAWAII Magazine Facebook poll results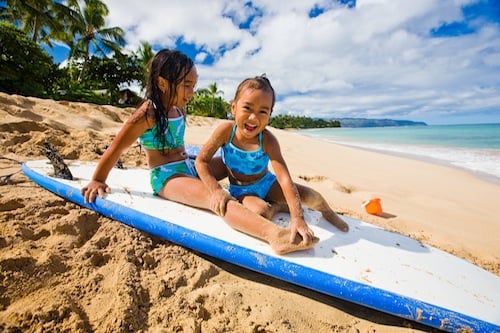 We've counted all of the votes from our latest HAWAII Magazine Facebook Ohana poll question: What's your favorite Hawaii beach with something for the entire family? The top five vote-getters are on the pages ahead. Mahalo for sharing your picks!
If you'd like to join in on our next poll and vote, along with our Facebook fan page ohana, click here, then press the "like" button at the top of our Facebook page. Become part of our HAWAII Magazine Facebook ohana and you'll get our "Hawaii favorite" poll questions as soon as we post them, and also you'll get instant updates on your Facebook wall when we post our HawaiiMagazine.com news items and features. OK, now, here we go. Here's the top five countdown of our Facebook ohana's favorite Hawaii beach with something for the whole family.
No. 5
Poipu Beach (Kauai)
The most popular beach on Kauai's sunny south shore is Poipu Beach. Winding for a mile in a series of crescent shapes, the area's abundant marine life has changed little since early Hawaiians fished these waters. In addition to swirling schools of tropical fish, eels, sea urchins and the occasional sunbathing honu (Hawaiian green sea turtles), rare Hawaiian monk seals are sometimes spotted here swimming or lounging in the sand. When the waves are gentle, the waters are great for snorkeling, swimming or just wadding with children. For information about Poipu Beach Park, click here.

No. 4
Hapuna (Big Island)
This half-mile stretch of white sand on the Big Island's South Kohala Coast has just enough consistent small-wave action to make it the best beach on the island for body surfers and bodyboarders. You'll find lots of both here. But you'll also find more than enough room on Hapuna's luxuriously wide sand dunes to stretch out and catch some rays. Bonus: the crystalline surf here is also great for hearty swimmers. For information about Hapuna Beach Park, click here.
No. 3
Kailua Beach (Oahu)
This stunning slice of windward coastline is among Oahu's go-to beaches for windsurfing, parasailing, bodyboarding and kayaking. When the wind is fairly gentle, you'll likely see a steady line of paddlers (and surfers) headed to and from nearby islets. Famous for its soft white sand and turquoise waters, Kailua Beach is about a half-mile long. Situated near Kailua Town, the beach is about a 30-minute drive from Honolulu. For information about Kailua Beach Park, click here.
No. 2
Kaanapali Beach (Maui)
Kaanapali Beach, a mile-long expanse of white-sand, is situated a few miles north of West Maui's Lahaina. Dotted with hotels and condos (dominated by the Kaanapali Resort), on most days the beach is decked with sunbathers and swimmers. Besides some of the best waters for snorkeling on Maui, there's the entertaining early evening pastime of watching a diver leap into the ocean from 40-foot-high Black Rock (Puu Kekaa) in a re-enactment of a feat by Maui's revered King Kahekili. For more information about Kaanapali Beach, click here.

No. 1
Waikiki Beach (Oahu)
Favorite Hawaii beach with something for everyone in the entire family? How could the visitors that continue to hold up Waikiki as the state's vacation Mecca be wrong? With its typically gentle and long-lasting wave break, the waters here are perfect for learning how to stand up on a surfboard or help paddle an outrigger canoe. While much of daily water-sports activity takes place near the Duke Kahanamoku statue, the best view of Diamond Head Crater is on the sand edging the pink Royal Hawaiian Hotel. The Waikiki beach area also includes Fort DeRussy Beach, Kuhio Beach, and Queen Surf Beach. For more information about Waikiki Beach, click here.