Top Five beaches in the Islands: HAWAII Magazine Facebook poll results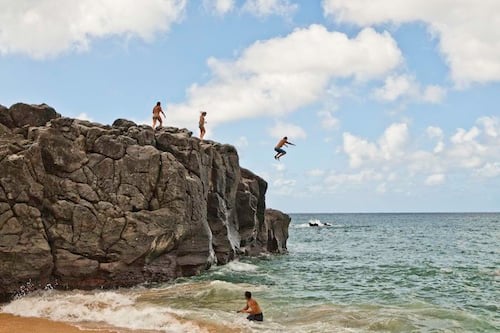 We've counted the votes from our latest HAWAII Magazine Facebook ohana poll question: We've got many miles of incredibly beautiful shoreline. Which Hawaii beach is your favorite? The top five vote-getters are on the pages ahead.
Our in-the-know ohana weighed in with votes for a total of more than 50 different beaches ranging from Oahu's world-famous shorelines — Sunset Beach on the island's North Shore to Waikiki Beach on the South Shore — to Papohaku Beach, a three-mile stretch of white sand along Molokai's little-visited west coast.
Reasoning behind the picks varied, of course. Voters noted selections based on everything from easy access to great waves for body-boarding and ample people-watching opportunities to wedding-party memories and simple solitude in the sand and surf. Mahalo for the poll picks!
If you're not already a part of our ohana, you're cordially invited to take part in on our next poll. Just click here then press the "like" button at the top of our Facebook page. You'll then become part of our HAWAII Magazine Facebook ohana and get our "Hawaii favorite" poll questions as soon as we post them. You'll also get instant updates on your Facebook wall when we post our daily HawaiiMagazine.com stories and features.

We'll be posting our next ohana Poll question on HAWAII Magazine's Facebook page in the days ahead. OK, here we go. Here's the top five countdown of our Facebook ohana's favorite Hawaii beaches.
No. 5

WAIMEA BAY, OAHU
Waimea Bay is a go-to place to see jaw-dropping big winter waves rolling into Oahu's North Shore beaches. The bay is home to the Quiksilver in Memory of Eddie Aikau surf competition — the world's longest-running and most prestigious big-wave invitational. The one-day competition is held only when wave heights consistently exceed a minimum 20-foot threshold. It has been staged eight times since it was launched 27 years ago. During summertime, the waves subside and the bay is a popular area for swimming. There's also rock outcropping (pictured, at top of page) that attracts a steady trickle of jumpers. (As you might guess, taking that plunge can be dangerous and is not advised.)

No. 4

KAANAPALI BEACH, MAUI
This mile-long expanse of white-sand beach on Maui's west side — a few miles north of the old whaling town of Lahaina — is dotted with hotels and condominiums (dominated by the Kaanapali Resort). On most days, during the hours before the sun starts sinking behind the waves, the beach is decked with sunbathers and swimmers. Besides some of the best waters for snorkeling on Maui, there's the entertaining evening pastime of watching a diver leap into the ocean from 40-foot-high Black Rock (Puu Kekaa) in a re-enactment of a feat by Maui's revered King Kahekili. A beachwalk runs parallel to the shoreline area.
HAPUNA BEACH, BIG ISLAND
This half-mile stretch on the Big Island's South Kohala Coast is the largest of the Big Island's white-sand beaches. Also, it has just enough consistent small-wave action to make it the best beach on the island for body-surfers and body-boarders. You'll see plenty of both here, plus snorkelers. Even so, you'll find more than enough room on Hapuna's luxuriously wide sand dunes to stretch out and catch some rays.

KAILUA BEACH, OAHU
This stunning slice of windward coastline is a go-to beach for windsurfing, parasailing, body-boarding, and kayaking. When the wind is fairly gentle, you'll likely see a steady line of paddlers (and surfers) headed to and from nearby islets. Famous for its soft white sand and turquoise waters, Kailua Beach is about a half-mile long. Situated near Kailua Town, the beach is about a 30-minute drive from Honolulu.

WAIKIKI BEACH, OAHU
With its typically gentle and long-lasting wave break, the waters are perfect for learning how to stand up on a surfboard, help paddle an outrigger canoe, or just have fun watching the buzz of activity in and out of the water. While much of daily water-sports action takes place near the Duke Kahanamoku statue, the best view of Diamond Head Crater is on the sand edging the pink Royal Hawaiian Hotel. Waikiki area also includes Fort DeRussy Beach, Kuhio Beach, and Queen Surf Beach.
No. 2

BELLOWS BEACH, OAHU
Bellows Beach, which neighbors the Windward Coast's Waimanalo Beach, is part of a stretch of shoreline that fronts often-calm waters. From Bellows Beach you can see the Makapuu Lighthouse, which tops the slopes of Oahu's southernmost tip. Bellows Beach falls under the auspices of the military, Bellows Air Force Station. At the far end of the beach, there are cabins and various recreational facilities for military families. The rest of the beach is open to the public, but only on weekends. And on most weekends you'll find several tents pitched at public campsites in a stand of beachfront ironwoods.
No. 1

LANIKAI BEACH, OAHU
Our Facebook ohana selected his half-mile long stretch of sugary white sand on Oahu's windward side as their favorite Hawaii beach. The sand—fine and perfect for sinking toes in or building sand castles. The water—clear, with gently lapping surf and almost-always perfect conditions for swimming and snorkeling. When the tradewinds are easy-breezy, kayakers glide to the nearby Mokuluas—a couple of offshore islets that are Lanikai's iconic, much-photographed backdrop. There's a beach landing at Moku Nui ("big island" in Hawaiian) while its twin, Moku Iki ("little island") is largely inaccessible to visitors.