Top Hawaii musicians set to perform at Kokua for the Philippines benefit concert Sunday in Waikiki. Attend or watch live online.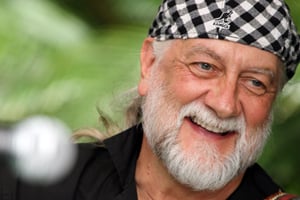 A stellar lineup of Hawaii entertainers including ukulele master Jake Shimabukuro and part-time Maui resident Mick Fleetwood are set to perform at a Waikiki benefit concert to help Philippines victims of Typhoon Haiyan.
The Kokua for the Philippines concert happens this Sunday, Dec. 15, on the Great Lawn of the Hilton Hawaiian Village Waikiki Beach Resort. The noon to 5 p.m. concert will also feature performances by Amy Hanaialii Gilliom, Raiatea Helm, Kuana Torres Kahele, Henry Kapono, Sean Naauao, Kalapana, Makana, Sean Naauao, Loretta Ables Sayre, Natural Vibrations and more.
If you're on Oahu this weekend, stop by the concert. General admission tickets are just $20 (available online at Honolulu Box Office or by phone at 808-550-8457). Your donation will be greatly appreciated by Kokua for the Philippines organizers.
Can't be on Oahu or at the Hilton Hawaiian Village? The full concert will be streamed live online (see below), with donations accepted by phone or via the web. All proceeds collected with be donated to the American Red Cross for disaster relief.
Television stations scheduled to air the event (in whole or in part) in Hawaii include KFVE, KGMB (CBS), KHNL (NBC), KHON (FOX), KIKU, KITV (ABC), CW, Me-TV and OC 16. In California, the concert will air on San Diego Union Tribune's UT-TV.
Kokua for the Philippines will stream live on the websites of Clear Channel Media + Entertainment/Hawaii, OC 16, KHON2, KITV 4, Hawaii News Now, and the San Diego Union Tribune, as well as on the Kokua for the Philippines event website.
Hawaii radio stations KSSK 92.3 FM, KSSK AM 590 and Island 98.5 will broadcast the concert live. Audio streaming will be available on mobile devices by downloading the iHeartRadio app.
Typhoon Haiyan (or Yolanda as it was called in the Philippines) was an exceptionally powerful tropical cyclone that devastated portions of Southeast Asia, particularly the Philippines in early November. It was the deadliest Philippines typhoon on record, killing nearly 6,000 people in the Philippines and wiping out entire communities. A month after Typhoon Haiyan struck the country, more than million people remain displaced and in need of assistance and supplies.