Top Kauai souvenirs you need to take home with you
Here's our list of mementos from Kauai that you should make room for in your luggage.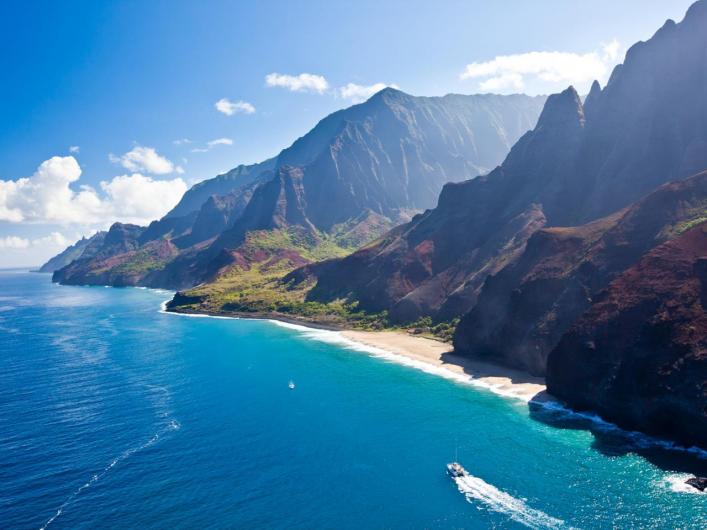 Anyone who has visited the Garden Isle knows it can be a difficult place to leave. But, just because your vacation days have run out doesn't mean you must relinquish all signs of the aloha spirit. Thanks to the island's rich culture and artistic heritage, you can bring home a memento of your time in paradise that will help you savor the experience.
Here's our list of the top Kauai souvenirs you should make room for in your luggage:
Hawaii-Grown Pineapple
Sinking your teeth into the sweet, canary-colored flesh of a fresh Hawaiian pineapple can make you feel like you're still in paradise, even if you're thousands of miles away. With each juicy bite, you can almost feel the soft trade winds against your face. Fortunately, this transformative experience can be packaged and checked onto an airplane, or airmailed to your front door.
Kauai Fruit and Flower Company—the unmissable, chirpy yellow, stand-alone store on Kuhio Highway in Lihue, just east of the airport—stocks an array of Hawaii-grown pineapples harvested from small fields in Eleele as well as from the islands of Maui and Oahu. The shop will box the fruit in sets of two, three or six using packaging that's pre-approved by the U.S. Department of Agriculture to fly as cargo to any U.S. or Canadian destination. Open from 9 a.m. to 5 p.m. Monday through Friday, and 9 a.m. to noon on Saturday, this one-stop shop for all of your pineapple shipping needs also carries papaya and a selection of Kauai flower lei that are fresh, fragrant and ready to ship to your home.
Kauai Coffee
With more than 4 million coffee trees on 3,100 acres, Kauai Coffee Co. produces dozens of exciting flavors of java from seed to cup, making it the largest coffee grower in the United States. Grown in volcanic-rich soil, Kauai Coffee's five bean varieties are some of Hawaii's finest. A 24-ounce whole-bean bag ($25) is a delicious, distinctly Hawaiian gift.
Ili Hawaiian Scrub
You can also benefit from Kauai's coffee-growing prowess without actually drinking it. Ili Scrub ($22), a Hawaiian coffee-based skin exfoliate for your body and face, rubs away flakes, bumps and dry patches to reveal glowing, moisture-rich skin. Available with infusions of lavender-mint, ginger, coconut-cacao or ylang-ylang essential oils, Ili Scrub is made with local coffee, water, organic coconut oil, organic sugar, Hawaiian sea salt and vitamin E. It's the perfect gift for those inclined to indulge in a little self-pampering—or those with skin that's been damaged from too many days at the beach.
Red Dirt Shirt
If you've traveled to Kauai's west side, you've likely noticed that the soil is a unique shade of rusted red. If you've gotten up close and personal with it, you may have learned the hard way that it can mar your clothing with a permanent, red stain. This dirt, a byproduct of the volcanic rock of which the island is made, is so color-rich that it is used as a dye. Dirt shirts, as they are called, are shirts that use Kauai's red dirt as a clothing colorant, making it possible to wear home a little piece of the island. There are several shops on Kauai that sell dirt shirts, including Original Red Dirt Shirts Store and Factory located on Waialo Road in Eleele.
Niihau Shell Lei
The climate on Niihau, a Hawaiian island located 17 miles west of Kauai, is dry and arid. Not even flowers will grow there. For this reason, the people of Niihau practice a centuries-old tradition of lei making that uses tiny, shiny shells. These highly prized necklaces are a unique part of Hawaiian culture. Though some of the more rare and complex Niihau shell lei fetch tens of thousands of dollars, others are priced in the range of a few hundred dollars and available for purchase at souvenir and jewelry shops across Kauai, including Kauai Fine Arts in Hanapepe, Hawaiian Trading Post in Lawai and the Kauai Museum gift shop in Lihue.
To fully grasp the value of the Niihau shell lei, it's important to understand a bit of the island's history. Niihau, a flat, 70-square mile island off the west coast of Kauai, is owned by the Robinson family, who have made it their life's work to preserve ancient Hawaiian culture. The Hawaiians who live there carry on much as they would have thousands of years ago—without electricity, cars or indoor plumbing. Every authentic Niihau shell lei is made by hand of shells that washed up on the shores of what is known as Hawaii's Forbidden Island. For more information, read "Keepers of the Flame: How cultural practitioners are preserving Niihau's unique traditions."
Award-Winning Kauai Rum
At its Kalaheo distillery, Koloa Rum Co. produces a range of fine, single-batch rums using local sugarcane. Available for purchase at Koloa Rum's tasting room on Kaumualii Highway in Lihue as well as numerous liquor stores across the island, a bottle of Kauai rum is the best way to bring home a taste of tiki cocktail culture. Choose from white, gold, dark, spice or coconut rum. We especially love the Koloa Kauai Coffee rum, combining Kauai's coffee and cacao into one.