Transpacific Yacht Race winner sails to Hawaii in record time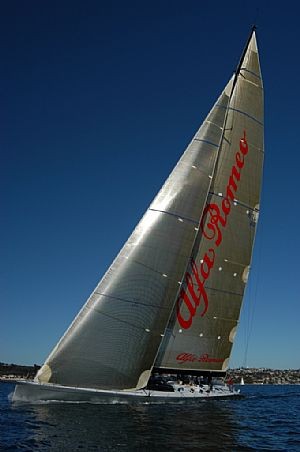 It took 5 days, 14 hours, 36 minutes and 20 seconds for the monohull yacht Alfa Romeo to travel the 2,225-nautical miles between Point Fermin, California, and Honolulu, Hawaii.
But when it crossed the Diamond Head, Oahu, finish line of the Transpacific Yacht Race at 12:36 a.m. today, its elapsed time smashed the previous course record by more than a day.
Alfa Romeo crew member Stan Honey credited the record crossing time to steady winds on the course that never abated. The sailboat posted distances of 400-nautical miles each day of the race, save for its fourth day.
The 100-foot yacht owned by one-time-Hawaii resident Neville Crichton was helmed by a crew of 16 for the Transpac race. The previous Transpac course record was 6 days, 16 hours, 4 minutes and 11 seconds, set in 2005 by Hasso Plattner's Morning Glory.
The Transpacific Yacht Race is held every two years. There are 47 boats entered in the 2009 race. You can follow them live via satellite here.