Travel Channel's "Bizarre Foods America" Hawaii episode spotlights unusual local eats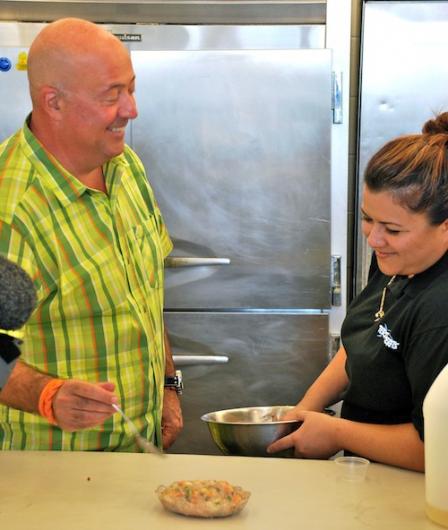 Bizarre Foods' Andrew Zimmern is back in Hawaii in search of the best, boldest, and most bizarre foods on the Islands. Airing on Monday (July 8), 6 p.m. Hawaii time/9 p.m. on the Mainland, an episode titled Undiscovered Hawaii will take a look at Hawaiian cuisine, cooking methods and ingredients that will leave some viewers unsure whether to salivate or cringe.
Chef, food writer, and TV personality, Andrew Zimmern is no stranger to the Islands. Past visits to shoot the Travel Channel's Bizarre Foods have been interspersed with personal visits, and in an interview with Honolulu's KITV news, he hints that he is considering finding a place in the islands. Commenting on the upcoming episode, Zimmern notes: "The Hawaiian culture is so resonant … and there's a whole new generation of young Hawaiians who are not running away from the culture of their grandparents. They're celebrating it and making it modern."
Maybe this helps explain why Zimmern is so totally gung-ho to try just about anything thrown his way, in the name of achieving the "authentic" experience.
Last trip, we saw Zimmern attend a traditional family luau, sampling local favorites like he'e, or squid luau, kalua pig, and fresh fish poke carved straight from the bone. The episode also included boar hunting on Maui, with liver, spleen, and intestine stew for lunch; a sampling of Hawaii's beloved SPAM, prepared just about every way possible; and a visit to Roy Yamaguchi's Kahana Bar and Grill for French Japanese fusion cuisine.
This time around, Zimmern is exploring dishes that we're betting plenty of locals don't know about. This includes raw fish poke made with bloodline scrapings and eyeballs of aku tuna, deep fried pork intestines, and dried octopus bile sacs. Commenting on the latter dish, served at hole-in-the-wall Tersty Treats (Waimanalo, Oahu), Zimmern dubs it "the most frightening things I've eaten in a long time." Pretty impressive for a TV show based on the most bizarre foods in the world.
To watch clips from Zimmern's last Hawaii episode (season 3, Episode 8), click here.
Click here for more information about Bizarre Foods America with Andrew Zimmern.