Traveling to Kauaʻi? Here's What You Need to Know
It's easier to visit the Garden Isle now.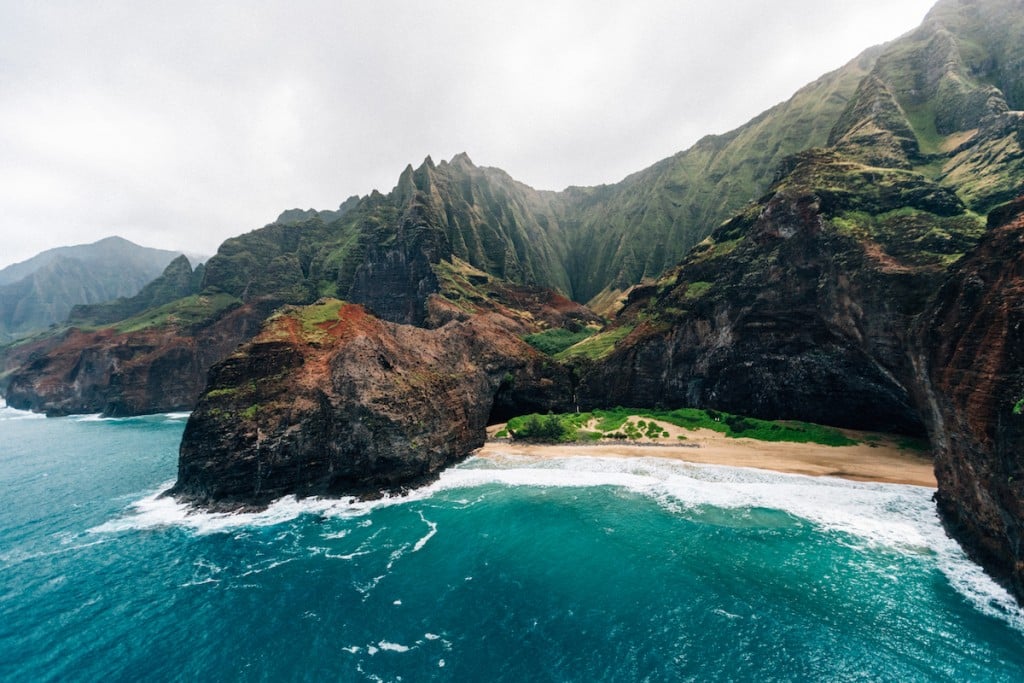 On April 5 Kauaʻi rejoined the state's Safe Travels testing program, which would allow travelers to bypass Hawaiʻi's mandatory 10-day quarantine with a negative COVID-19 test taken 72 hours before arriving in the Islands. (It originally opted out in December 2020.)
That means traveling to Kauaʻi is now an option—as long as you meet all the requirements of the Safe Travels program, including getting a COVID test from a Clinical Laboratory Improvement Amendments (CLIA) certified laboratory.
The island has seen very few visitors since March 2020, during the state's first shutdown. The county has the second-fewest total COVID-19 cases in the state—198, compared to 23,468 on Oʻahu—and fewer than 10 active cases as of Monday, thanks, in part, to Kauaʻi's restrictive travel requirement.
"The increased restrictions over the winter months helped [Kauaʻi] safely balance travel with the health and safety of residents and visitors on the Garden Island," said Hawaiʻi Gov. David Ige said in a statement.
So how do you safely—and responsibly—travel to the Garden Isle?
Follow the State's Rules
To visit Kauaʻi without quarantine, you need to:
You will also get your temperature checked upon arrival.
The following Kauaʻi hotels are offering post-travel testing to their guests: Kauaʻi Marriott Resort & Beach Club, Grand Hyatt Kauaʻi Resort & Spa, The Cliffs at Princeville, The Club at Kukuiʻula, Timbers Kauai at Hōkūala, Sheraton Kauaʻi at Coconut Beach, The Point at Poʻipū, Hanalei Colony Resort, Kōloa Landing Resort and Suite Paradise.
(Hawaiʻi does not currently allow vaccinated travelers to skip the state's testing protocols.)
Download a Contact-Tracing App
It's also recommended that travelers download and use the AlohaSafe Alert app or other Google-Apple exposure notification system application to help with contact tracing. (The AlohaSafe Alert app was created by our sister company Upspring.)
Take a Second COVID-19 Test Upon Arrival—and Get Perks
There's inventive to taking a voluntary second COVID-19 test three days after you arrive on Kauaʻi: You'll get a discount card to more than 70 local businesses.
The incentive program, called the Kokua Kauaʻi Card, will have a QR code linking to a list of about dozens of businesses on the island, including hotels and restaurants, that offer different discounts.
Wear a Mask or Face Covering
Face coverings must be worn in compliance with county orders. For Kauaʻi, people older than 5 must wear a mask that covers their nose and mouth, whether indoors or outdoors, in any setting in which they are within 6 feet of people who don't like in their immediate household.
You must wear a mask inside any establishment except:
While consuming food or beverage
When requested to verify identity by a bank or other institution
While interacting with a person who is hearing impaired that may rely on lip-reading to communicate
While engaged in outdoor exercise
Individuals incapable of wearing a face covering due to a medical condition or disability
Do Your Research
Most parks, beaches and trails are open around the state, but every island may have different restrictions or hours of operation.
Popular beaches on Kauaʻi—including Poʻipū and Hanalei—are busier than they've been in a year. Despite the crowds, you still need to practice physical distancing and wear a face mask, even while lounging on the beach. (You can ditch the mask if you're swimming, surfing or exercising.)
The popular Kalalau Trail can be accessed and its reservation system is now open. Reservations are available 30 days in advance. (Due to a recent landslide, though, access to the trail is currently limited.) Get more information on permits here.
Starting April 19, all non-Hawaiʻi resident visitors to Hāʻena State Park will be required to purchase both entrance and parking reservations to visit the park. For example, if there are two passengers in one vehicle, you will need to purchase two entry reservations and 1 parking reservations. These reservations are available online here and must be purchased in advance of arriving to the park. (Hawaiʻi resident visitors admission and parking is free with a valid Hawaiʻi ID or driver's license.)
Polihale State Park, which had been closed for months, reopened on April 5.
Some of your favorite spots might still be closed temporarily—or for good. For example, the popular Art Café Hemingway in Hanalei, Ruth's Chris Steak House in Kōloa and Kālaheo Steak & Ribs have both closed permanently because of the pandemic. Other spots, like Mark's Place in Līhuʻe, have cut back their hours. So check online or call ahead.
Retailers, too, may have closed or reduced hours. Warehouse 3540 in Kōloa restarted its Second Saturday event—the next one is on April 10—with a slew of local vendors, food trucks and live music. (It's a great place to find one-of-a-kind, locally made gifts.)
Expect Crowds and Traffic
It's only been a few days, and Kauaʻi is already seeing an increase in visitors to the islands. Residents say some beaches and restaurants are more crowded than before. And expect traffic, especially in Kapaʻa.
If you're planning to visit Hanalei on the island's north shore, crews are still doing landslide mitigation work. But most of the shops there are open.
You Cannot Get a Vaccine While on Vacation
Visitors to Kauaʻi—or any island, for that matter—are not eligible to receive COVID-19 vaccine, even if they received their first dose prior to their trip.
Be Nice and Respectful
Follow the rules. Wear your mask. And remember: People do live here. Treat the place—and the people—with respect.
For more information about traveling to Kauaʻi right now, visit here.