"Truly Hawaiian" film fest honors musician's efforts to preserve old Hawaii music, culture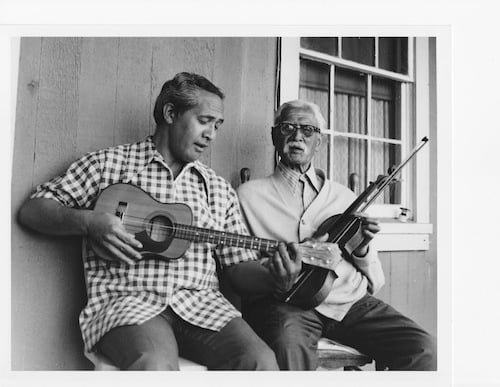 The Honolulu Museum of Art is saluting Hawaii musician and filmmaker Eddie Kamae with a weeklong festival, which will open this weekend with a rare opportunity to hear Kamae play with The Sons of Hawaii and talk about his life and work.
Truly Hawaiian: Musical Roots of the Hawaiian Cultural Renaissance will kick off at 5 p.m. Saturday at the Honolulu Museum of Art's Doris Duke Theatre.
Opening night festivities will start with a concert by Kamae and the Sons of Hawaii in Doris Duke Theatre (5:25 to 6:05 p.m.), followed by dinner in the museum courtyards. At 7:50 p.m., Kamae will introduce his film The History of the Sons Of Hawaii (2000). Directed by Kamae, the film spotlights Sons of Hawaii songs, humor, and "devotion to a sound that conveys something essential about the Hawaiian spirit."
Considered to be a driving force behind the Hawaiian Cultural Renaissance of the 1960s and '70s, Kamae and the legendary Sons of Hawaii (the original lineup included Hawaiian music icons Gabby Pahinui, Joe Marshall, and David "Feet" Rogers) helped shift the Hawaiian music genre from the Hollywood-oriented "Hawaii Calls" style back to its roots in ancient chants and the composers of the Monarchy Period. Kamae modernized traditional songs, using up-tempo rhythms in combination with a style of singing and instrumentation evocative of the traditional Hawaiian mele.
During the 1980s, Kamae began shouldering efforts to preserve old Hawaii's culture through filmmaking. He made documentaries to record the music and life of his teacher, mentor, and friend Sam Li'a Kalainaina and others. Kamae's archive now includes volumes of original music and 10 award-winning films he and his wife, Myrna, have produced.
In a news release issued by the Honolulu Museum of Art, festival sponsor Wayne Pitluck, who, with his wife Judith Pyle, has a passion for Hawaiian music and culture, said: "Eddie Kamae, iconic Hawaiian musician and songwriter, has devoted a significant portion of his professional life to preserving on film the contributions of others to the development and preservation of Hawaiian music."
Pitluck continued: "Eddie's films, created with his wife, Myrna, are often the only record of the contribution of others to this effort. This film festival honors them and their work, and has a natural home at the Honolulu Museum of Art, where the contributions of Hawaiian artists are honored and preserved for all."
Here's the rest of the festival's lineup. All film screenings will take place at the Doris Duke Theatre (at rear of museum). For ticket information and more details about the festival, click here.
• Words, Earth & Aloha The Source of Hawaiian Music
— 7:30 p.m., Tues., June 19.
Directed by Kamae, the film explores the poetry and play of Hawaiian lyrics as well as the places and natural world that inspired songs still loved and listened to today. The film focuses on Hawaiian composers who flourished between the 1870s and the 1920s, and for whom Hawaiian was still a first language. (Hawaii International Film Festival Silver Maile Award Winner.)
• The Hawaiian Way: The Art & Tradition of Slack Key Music
— 7:30 p.m. Wed., June 20.
Directed by Kamae, the film expresses how ki ho'alu conveys something essential about the Hawaiian spirit and family tradition. Ki ho'alu (slack key) is to Hawaii what flamenco is to Spain and Delta blues picking is to the American south. (Premiered at Kennedy Center in Washington, D.C.)
• Those Who Came Before
— 7:30 p.m., Thurs., June 21. This film, directed by Kamae, recounts his quest for traditional Hawaiian music and the stories behind. Queen Liliuokalani, who was a prolific songwriter, inspired Kamae as a youth. Kamae's adventures led him to cultural icons—the author and translator Mary Kawena Pukui; the poet and "Songwriter of Waipi'o" Sam Li'a Kalainaina; Pilahi Paki, the author of the "Aloha Chant"; and Hawaiian cultural resource Lilia "Mama" Hale. (Official selection: Hawaii International Film Festival.)
• LI'A: The Legacy of a Hawaiian Man
— 7:30 p.m., Fri., June 22. Directed by Kamae, this award-winning documentary celebrates the music and spirit of revered Big Island performer and composer Sam Li'a Kalainaina (1881-1975), who was shaped and nourished by Waipi'o Valley.