Try Tasty Seafood at this Maui Restaurant, Inspired by a "Chopped" Dish
Crowned champion on "Chopped," chef McKenna Shea of Pacific'o on the Beach has a dish inspired by her culinary creations on the show—but it's only available for a limited time.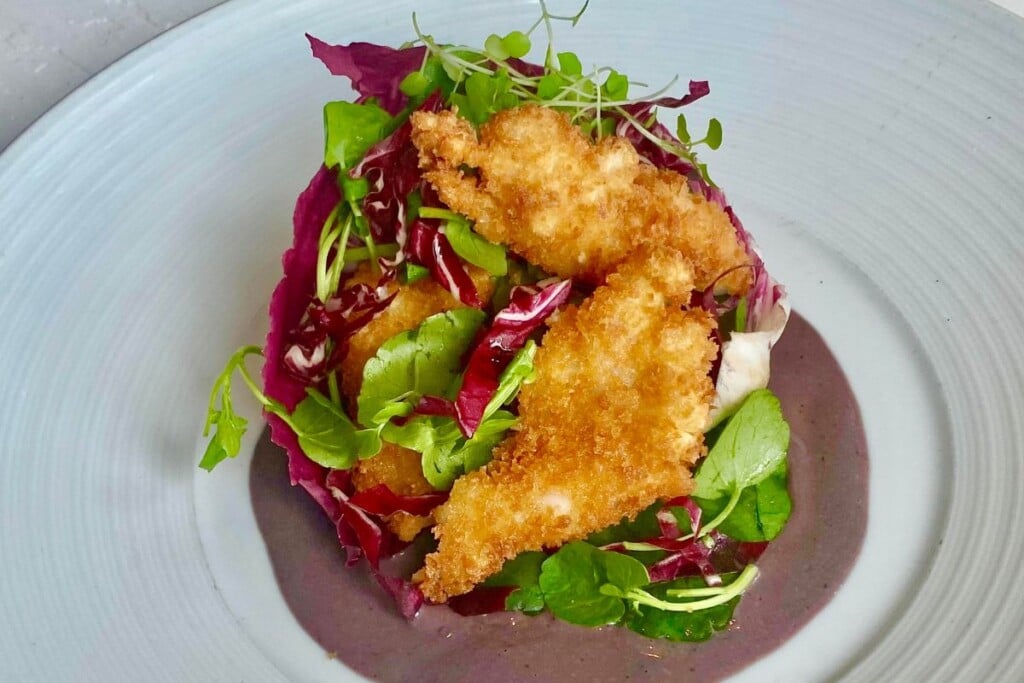 What would you do with a basket full of abalone?
In round one of Food Network's "Chopped" episode christened "A Bunch of Abalone," contestants were tasked with turning these marine snails into creative, well-presented and of course, delicious, appetizers.
Although McKenna Shea had never prepared sea snails leading up to the competition that was aired in March, she is adept at cooking a vast array of seafood and working with continuously changing ingredients thanks to her role as executive sous chef at Pacific'o on the Beach in Lahaina, Maui.
After breading the abalone with veggie chips, Shea fried them to be a focal point in a bright and crunchy salad, which she finished with a drizzle of sweet ube niçoise vinaigrette. Shea's creative appetizer was a standout in the competition, earning her praise from the panel of judges. The Maui chef not only survived the first round, she excelled in the entrée and dessert challenges, too, to become "Chopped" champion, taking home the grand prize of $10,000.
"I've been a long-time fan of the show," Shea says on episode 105 of HAWAI'I Magazine's "Have Aloha Will Travel" podcast. To prepare for the competition, Shea says she diligently studied reruns of old episodes, envisioning what she would make with a box of mystery ingredients. But the Maui chef also credits her time at Pacific'o on the Beach for expanding her repertoire and challenging her to create dishes with constantly changing ingredients. "Here at Pacific'o, we are a farm-to-table restaurant and we have our own farm. So, we're very much using creativity, speed and flexibility with what ingredients are coming in the door and what we're going to turn that into tonight and what we are going to run tomorrow," the chef says. "This environment, this industry prepared me for the show."
In 2019, Shea joined Pacific'o on the Beach as the youngest lead female chef. By 2020, she had risen to be sous chef and today she is executive sous chef. Shea works closely with executive chef Isaac Bancacao to create innovative dishes with locally sourced ingredients, resulting in the restaurant's ever-evolving menu.
Diners at the oceanfront restaurant in Lahaina can taste Shea's award-winning salad now through April 15. "It's pretty spot on to what I made on the show except for sourcing our local versions of the ingredients," explains Shea. The abalones are from Hawaiʻi Island—and are still breaded with veggie chips—and served on a bed of Kula watercress with crunchy radicchio and finished with Shea's ube niçoise vinaigrette. "This dish has turned into my signature dish; although technically I won with the dessert, this is the dish that's correlated with my episode."
For more information and to make reservations at Pacific'o on the Beach, visit pacificomaui.com and find chef McKenna Shea on Instagram at @chefmckennashea.