Tune In to the Maui Ola Benefit Concert and Support Maui
You can watch this free fundraiser concert right here, right now!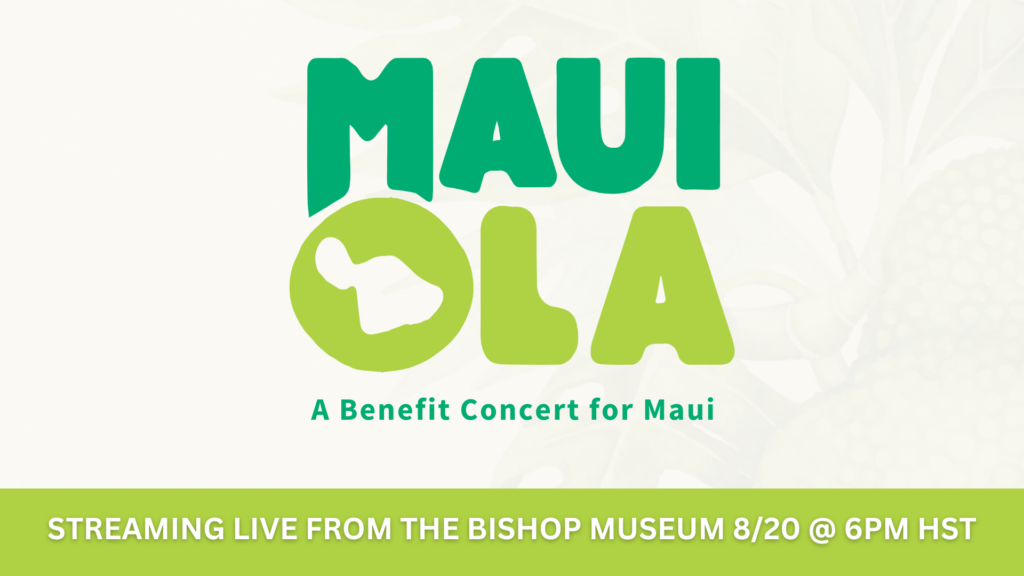 Communities from across Hawaiʻi have been coming together to gather funds and support Maui and its residents in one of their most dire times. And to further drive donations, a group of some of the most talented local musicians have come together to perform at the Maui Ola Benefit Concert, which is being held today at the Bishop Museum Great Lawn from 4 to 6 p.m.
Starting at 5 p.m., local stars like Anuhea, Kimié Miner, Raiatea Helm and more will be taking the stage to help raise awareness and funds for the disastrous Maui wildfires that decimated segments of the island. If you can't make it in person, however, don't fret. Below you'll find a livestream video player that will go live at 6 p.m. HST. (The livestream broadcast will also feature performances from the Maui Ola Benefit Concert taking place on Hawaiʻi Island, at Parker Ranch, from 10 a.m. to 4 p.m, today.)
All of the proceeds from tickets sales—which have already sold out—will go entirely to Maui fundraising portals like Maui United Way, Hawaiʻi Community Foundation, Hawaiʻi People's Fund and the Council for Native Hawaiian Advancement. While the livestream is free to view, you can make donations to mauiola.org or any of these Maui fundraisers if you're feeling inspired by the music and aloha. Anything that you can give would be greatly appreciated, as the Maui wildfires have been one of the most disastrous and deadly tragedies in recent history of Hawaiʻi, and many locals have lost their homes, possessions and businesses.
If you're not interested in watching or listening to the concert on your computer, it will also be televised on TV stations KGMB, KHNL KFVE, KITV, KIKU, KHON, KHII, PBS Hawaiʻi; and broadcast on radio stations 92.3 KSSK, Island 98.5, Hawaiian 105 KINE, KCCN FM100, KQMQ, HI93 FM, KAPA Hawaiian FM, KPUA 670 AM, KWXX 94.7 FM, KAOY 101.5 FM, KNWB 97.1 FM, KMWB 93.1 and CBS 1500.