Two Pristine Areas on Hawaiʻi Island Now Protected
Parcels in Waiea and Kahuku-Pōhue will be managed to preserve what makes them so ecologically and culturally significant.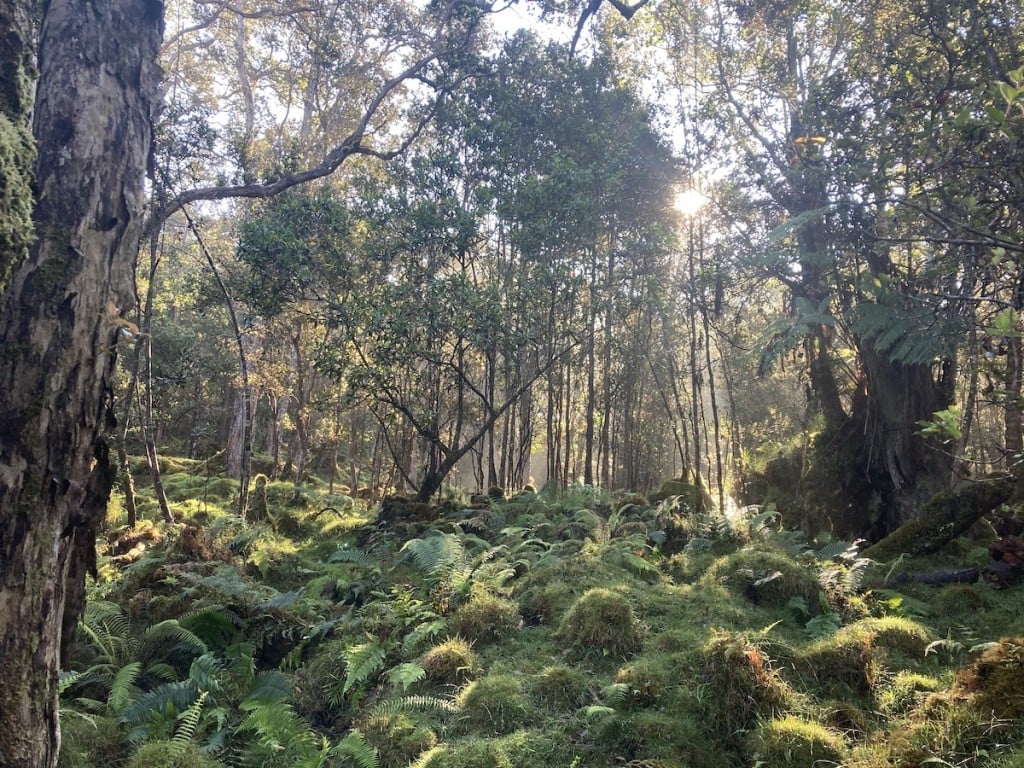 Two areas on Hawaiʻi Island—both ecologically and culturally important—will now be managed by a government agency, with the hopes of protecting these natural resources.
A roughly 1,260-acre parcel in Waiea on the western flank of Mauna Loa has been designated as part of the State Natural Area Reserve (NAR) system managed by the Hawaiʻi Department of Land and Natural Resources's Division of Forestry and Wildlife. (These systems were established to preserve specific and diverse land and water areas in Hawaiʻi. There are currently 21 reserves on five islands.)
The Waiea NAR contains moist koa- and 'ōhi'a-dominated forests—the ideal habitat for rare forest birds and plants—within the South Kona district. Wild ʻalalā (Hawaiian crow), both endemic and endangered, were last observed in Waiea.
The new reserve is approximately 1.5 miles mauka (upland) from where Highway 11 (Māmalahoa Highway) intersects with Ho'okena Beach Road.
While these reserves are normally open to the public for hiking and nature study, this area is currently landlocked by adjacent private land, so currently there is no access.
About 40 miles south of this area is Pōhue Bay, part of the 16,451-acre Kahuku-Pōhue parcel that is now part of Hawaiʻi Volcanoes National Park.
In July the nonprofit Trust for Public Land purchased this parcel, which includes the popular Pōhue Bay, for $9.4 million, then transferred ownership and stewardship to the National Park Service.
The bay is frequented by local residents who love to surf, fish and reconnect with nature and culture. It has recently become a popular destination for visitors, attracted to the bay's white sand and remote location.
But beyond its beauty, this area on the rugged coastline of Kāʻu is a critical habitat for a variety of endangered species, including honu (Hawaiian green sea turtles), hawksbill sea turtles, Hawaiian monk seals, ʻiwa (great frigate bird), kōlea (golden plover) and ʻōpeʻapeʻa (Hawaiian hoary bat). It's also home to a number of important cultural sites, including heiau (temples), burial sites and lava tubes.
"Pōhue Bay is has tremendous cultural and ecological value," says Lea Hong, TPL's director of Hawaiʻi programs. "It is home to pristine beaches, rich ecosystems and an astonishing array of well-preserved cultural sites. Critically endangered Hawaiian species and rare endemic animals rely on the natural resources and habitat the area provides and significant Hawaiian cultural sites, including the largest recorded abrader tool quarry in Hawaiʻi, ancient burials, mauka-makai (inland) trails, the coastal Ala Kahakai National Historic Trail, fishing shrines, remains of once thriving coastal villages, and petroglyphs dating from ancient times to the 19th century remain untouched."
The National Park Service will spend several months discussing with the community how best to manage access to this area. For now, this parcel, including the bay, is closed to the public.