U.S. Air Force's daredevil Thunderbirds flying Oahu skies. Here's where to see them.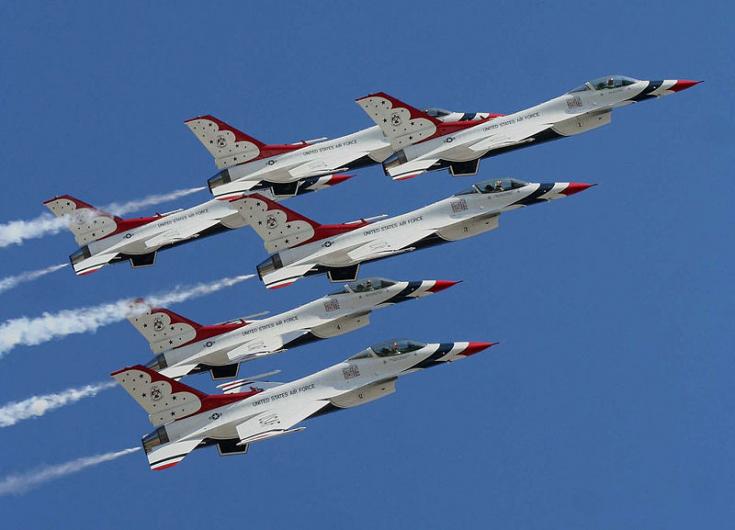 On Oahu this weekend and jonesing to see a cadre of Air Force jets fly within inches of each other at speeds of 400 mph? You're in luck. The Thunderbirds are coming to town.
The celebrated military air demonstration squad will take to the skies above Oahu's Hickam Air Force Base on Saturday and Sunday for the base's "Wings Over the Pacific" open house.
Hickam Air Force Base will be open to the general public for this weekend's festivities. Gates open at 9:30 a.m. on both days. Admission, and on-base parking, is free. However, Hickam officials suggest arriving early, as space will likely be limited.
The Thunderbirds attract serious crowds wherever they perform. The squadron tours the U.S. and world regularly, performing precision aerobatic formations and daredevil solo flights—similar to the U.S. Navy's Blue Angels, but in special U.S. Air Force F-16 Fighting Falcon jets.
The Thunderbirds last soared through Hawaii's skies in September 2007—that time, tearing over metropolitan Honolulu and performing aerobatics over waters off of Waikiki. Oahu will be the Thunderbirds' final American stop before embarking upon a month-long tour of Asia.
The ground portion of the Thunderbirds routine starts at 2:30 p.m. on both days; the aerial demonstration begins at 3 p.m. Yeah, we know. It's a long wait considering your early arrival. But live entertainment, food booths and aircraft displays, open from 10 a.m. both days, should keep you busy until the Thunderbirds take to the skies. (Click here for a complete schedule of entertainment.)
Once aloft, the Thunderbirds will perform approximately 30 maneuvers during their 30-minute air demonstration—including barrel rolls, tight turns and their signature "diamond" maneuver, in which four jets zip along in close formation, resembling the points of a diamond.
The entire Thunderbirds show runs about 75 minutes. The U.S. Army's Golden Knights parachute team also will perform in the air show.
Click here for more information on the "Wings Over the Pacific" event.