U.S. Fish and Wildlife Service adds 23 Oahu species to Hawaii's endangered list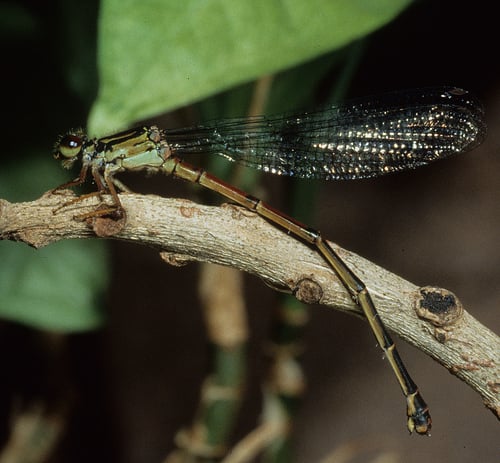 The U.S. Fish and Wildlife Service this week announced that 20 plant species and three Hawaiian damselfly species found on Oahu will receive protection under the Endangered Species Act.
The plant species include an annual herb, shrubs, trees and a fern. The animal species are the crimson Hawaiian damselfly, blackline Hawaiian damselfly and the oceanic Hawaiian damselfly.
These species will join 437 other threatened and endangered species found in Hawaii, which has the highest tally nationwide. Except for California, Florida and Alabama, all other state listings top out in double and single digits.
Why is Hawaii especially vulnerable? Here's the federal agency's take on the matter.
"The native plants and animals of Hawaii, like those of other island ecosystems that evolved in isolation from mainland species, are highly specialized and depend on one another for survival. The introduction of alien diseases, as well as alien species, which compete for food and habitat and sometimes become predators of native species, has had a devastating effect on the native plants and animals of the islands."
In addition to adding a total 23 Oahu species to the protection roster, the agency's "ecosystem-based" approach to the conservation of imperiled plants, animals and habitat on the island, also identifies habitat essential to the survival of these and other threatened and endangered species.
In a news release issued by the Pacific Islands Fish and Wildlife Office, Loyal Mehrhoff, the office field supervisor said: "Protecting these Oahu species and identifying the habitat they and other native threatened and endangered species need to survive enables us to work with our state and federal conservation partners, private landowners and other groups to address the threats they face and to protect and restore the unique ecosystems that support them."
Among those threats are habitat destruction caused by invasive, nonnative plants, feral pigs and goats, and agricultural and urban development. Other threats include predation by non-native feral pigs and goats, and other introduced species such as rats, fish, bullfrogs, slugs and ants. In addition, native range habitat is also threatened by the effects of climate change, which may intensify during the presence of natural threats such as fire, hurricanes, landslides and flooding.
To download the agency's final ruling, click here. For additional information about the Honolulu-based Pacific Islands Fish and Wildlife Office, click here.