Ukulele and slack key legend Kaapana wins nation's top honor in folk, traditional arts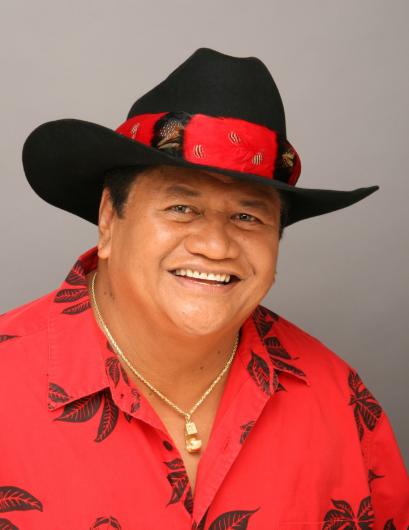 Ledward "Led" Kaapana, a master of ukulele and slack key guitar — a finger-style guitar art form that originated in Hawaii — was today named as a 2011 National Heritage fellow, the nation's highest honor in folk and traditional arts.
Each of this year's nine fellows will receive a $25,000 award and attend a banquet in September at the Library of Congress in Washington, D.C., according to a press release issued by the National Endowment for the Arts. The fellows were among 210 nominees judged by a panel of experts in folk and traditional arts. Previous fellows in the award's 30-year history include bluesman B.B. King and cowboy poet Wally McRay. (Nominees are submitted by the public.)
Kaapana (pictured, right) grew up in Kalapana — the Big Island's southernmost district — in a family of musicians. His talent on string instruments, combined with his vocal skills in baritone and leo kiekie (falsetto) range, has made him a popular performer in Hawaii and elsewhere for more than four decades.
While still in his teens, Kaapana, along with his twin brother Ned and cousin Dennis Pavao, formed the Hui Ohana, a popular group during the 1970s and '80s and part of the Hawaiian Renaissance — a revival of long-suppressed and neglected Hawaiian cultural identity expressed in music, language, hula and construction of Hawaiian voyaging canoes.

Kaapana later formed the Na Hoku Hanohano Award-winning trio, I Kona. He has also released a solo albums including two Na Hoku Instrumental Album of the Year winners: Lima Wela and Black Sand. Kaapana has been nominated for a Grammy in 2006, 2007 and 2009 for Ki Ho alu, Hawaiian Slack Key, Grandmaster Slack Key and Force of Nature (with Mike Kaawa).

The 2011 NEA National Heritage Fellowship recipients are:
• Laverne Brackens, a quilter, Fairfield, Texas.
• Bo Dollis, a Mardi Gras indian chief, New Orleans.
• Jim Griffith, a folklorist, Tucson, Ariz.
• Roy and PJ Hirabayashi, taiko drum leaders, San Jose, Calif.
• Ledward Kaapana, ukulele musician and ki hoalu (slack key guitarist), Kaneohe, Oahu
• Frank Newsome, "Old Regular Baptist" singer, Haysi, Va.
• Carlinhos Pandeiro de Ouro, Pandeiro player and percussionist, Los Angeles.
• Warner Williams, Piedmont blues songster, Gaithersburg, Md.
• Yuri Yunakov, Bulgarian saxophonist, Bloomfield, N.J.

For more information about the 2011 NEA National Heritage Fellowship recipients, click here.