Uluwehi Guerrero, Hookena lead nominees for 2010 Na Hoku Hanohano Hawaii music awards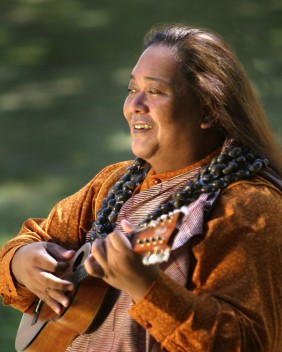 Recordings by Maui kumu hula/musician/vocalist Uluwehi Guerrero and Grammy-nominated traditional Hawaiian music group Hookena share the lead for most nominations for the 33rd annual Na Hoku Hanohano music awards. Guerrero and Hookena have seven nominations each on the 2010 Na Hoku ballot, released today.
Guerrero's Uluwehi Sings Na Mele Hula Aloha album received Na Hoku Hanohano nominations for album of the year, male vocalist of the year, Hawaiian album of the year, Hawaiian language performance, liner notes and song of the year for "Nani Kamakura." Guerrero (pictured, right) also scored a nod for favorite entertainer of the year.
Three of Hookena's seven nominations for its album Nani Mau Loa-Everlasting Beauty were in the Hoku Awards' haku mele category, a composer's award honoring the best new song or chant primarily in the Hawaiian language. Hookena's nods in the category were for "Hanohano Helumoa" (composed by Manu Boyd), "Ka Nio O Maleka Ailana" (composed by Boyd and Horace Dudoit III) and "Nani Mau Loa" (composed by Dudoit, Boyd and Puakea Nogelmeier). Hookena's three other nominations for the album were for Hawaiian language performance, group of the year and song of the year for "Ka Nio O Maleka Ailana." Hookena (pictured, below) also received a nomination for favorite entertainer of the year.
Five nominations each went to Amy Hanaialii for her Friends and Family of Hawaii album, Lorna Lim for her Polinahe album and Na Palapalai for its Nanea album. Mailani, Brother Noland, Eddie Kamae and the Sons of Hawaii, Jeff Peterson and the multi-artist compilation Ike O Na Kumu Hula (Insights of Hula Sources) received four Na Hoku Hanohano nominations each.
Na Hoku Hanohano's 2010 Lifetime Achievement honorees include vocalist/ musician Ida Kelii Chun, the Makaha Sons of Niihau, Hawaii Calls entertainer Boyce Rodrigues and, posthumously, falsetto icon George Kainapau and members of the Isaacs music family, including composer/band leader Alvin Kaleolani Isaacs Sr., steel guitarist Alvin Kalanikau "Barney" Isaacs, and slack key masters Leland "Atta" Isaacs and Norman Isaacs.
The bulk of Na Hoku Hanohano's 22 awards categories are voted on by members of the Hawaii Academy of Recording Arts, an organization of recording industry professionals, journalists and others with interest in Hawaiian music. This year's Na Hoku Hanohano Music Awards ceremony will be held at the Hawaii Convention Center in Honolulu on May 30, capping off four days of music-related events scheduled for the first annual Na Hoku O Hawaii Music Festival.
Hawaii TV station KGMB will broadcast the awards ceremony live in high definition at 7:30 p.m., May 30. The broadcast will also be streamed live on the web—likely on KGMB's web site, www.hawaiinewsnow.com.
Click here for a complete list of this year's Na Hoku Hanohano music award nominees.
Congratulations to everyone nominated!