Unusually calm North Shore surf slows 2010 Triple Crown of Surfing contests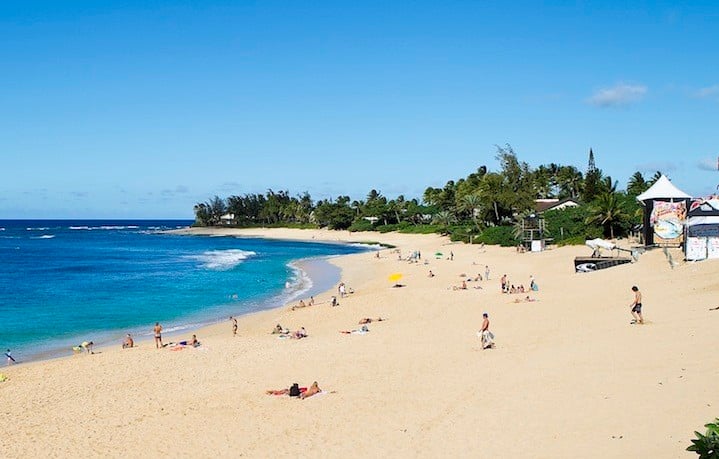 A dearth of big waves at Oahu's famed North Shore surf spots has been keeping pro surfers out of the water and waiting for competition at this year's Vans Triple Crown of Surfing.
Surf is traditionally large during the November-December holding periods for the six men's and women's contests of the Triple Crown. But a prevailing La Niña climate pattern this year is affecting weather patterns that typically generate the Triple Crown season's famously large surf, frustrating event organizers and pro surfers.
Waves for last month's first jewels of the 2010 Triple Crown—the Reef Hawaiian Pro and Cholo's Women's Hawaiian Pro—were decent enough for competition, if not exactly stellar. However, suitable swells for the competition's second jewels—the O'Neill men's and women's World Cup of Surfing—have been virtually nonexistent since holding periods for both events began Nov. 24.
Each event in the Triple Crown keeps an extended holding period of at least two weeks, with competition happening only on days with big surf—in general, sustained wave heights of 15 feet or higher.
Only two of the last eight days of the O'Neill World Cup holding period—including today—were good enough for pros to compete. Men's competition went on today at two surf breaks along the O'Neill Cup's traditional Sunset Beach location, while women's competition had to be postponed.

Pro Mick Fanning at this year's Reef Hawaiian Pro contest. Photo: Vans Triple Crown of Surfing/Kelly Cestari
"We're expecting this small swell to build throughout the day and will be running dual banks for the men's competition to get through as many heats as possible," said Richie Porta, international head judge for the Association of Surfing Professionals (ASP). "It's not ideal, but with no swell to speak of in the remainder of the waiting period, we have to capitalize on the swell available."
The O'Neill World Cup has until Dec. 6 to complete its men's and women's contests.
The lack of sustained big waves for this year's contests stands in marked contrast to last year's Triple Crown events. Winter waves arrived early and big for 2009 competition thanks to a then-prevailing El Niño climate pattern, which produced wave heights between 35 and 45 feet on the North Shore.
North Shore Oahu swells were, in fact, so massive a year ago, The Quiksilver in Memory of Eddie Aikau big wave surf contest was given a green light for competition for the first time in five years. The invitation-only pro contest, named after famed North Shore surfer and lifeguard Eddie Aikau, requires waves at least 40 feet tall along the face—or front side. The three-month holding period for the contest, also known as "The Eddie," began today, with hopes for larger winter surf in the weeks ahead.
"Imagine a NASCAR driver waiting for the track to open up, or a football player waiting for the goal line to be painted in, and you'll understand how frustrating this is for the world's best surfers," said Vans Triple Crown of Surfing executive director Randy Rarick, in a statement.
The 38-day, six event Vans Triple Crown of Surfing is the surf world's most prestigious annual contest, marking the final series of competitions on the ASP yearlong world tour.
For the latest updates on contests, surf conditions and live streaming of competition, check out the Vans Triple Crown of Surfing official website. For a guide to beaches and surf spots of the Triple Crown, check out the HAWAII Magazine Spectator Guide to the 2010 Vans Triple Crown of Surfing.