Up to 23,000 runners expected to lace up for Sunday's 39th annual Honolulu Marathon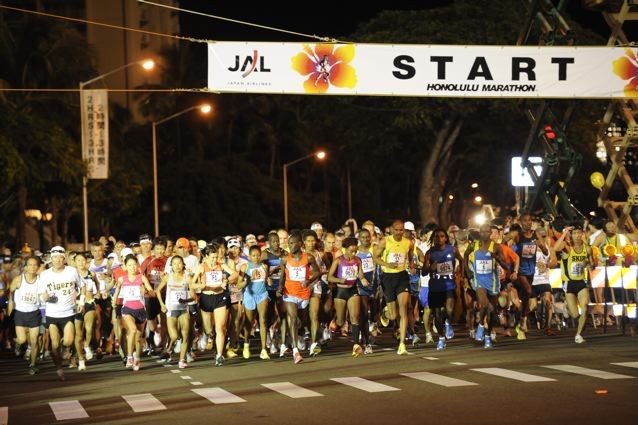 An estimated 21,000 to 23,000 runners are expected to take part in the 39th annual Honolulu Marathon, which will get under way well before sunrise in the city's Ala Moana area this Sunday.
If you happen to be within two or three miles of the start line, expect to hear the booming crackle of fireworks, which will be lighting up the still-dark skies at precisely 5 a.m., when the starting gun sounds off.
Runners, lined up at the start line according to predicted race pace, will be led by a field of about two dozen world-class elite runners including are defending champions Nicholas Chelimo of Kenya and Belainesh Gebre of Ethiopia.

After winding through the downtown area, runners will head toward Ala Moana Shopping Center, passing Iolani Palace and Honolulu City Lights — both lighted with glowing Christmas decorations. Crowds of cheering spectators typically line the marathon course in the shopping center and for a few miles along Waikiki's main drag, Kalakaua Avenue.
From there, runners cross the 10-kilometer mark at Kapiolani Park and climb the Diamond Head road hugging the waterfront. They'll hit the midway point while running along Kalanianaole Highway toward East Oahu. In Hawaii Kai, runners will turn around and head back to the finish line at Kapiolani Park by way of the Kahala area.
Runners completing the 26.2-mile course will get a "finisher's T-shirt," puka shells and various other mementos. Also, according to the event's organizers, runners will be served fluffy, doughnut-like Portuguese malasadas.
According to organizers, the Honolulu Marathon is ranked at the 10th largest marathon in the world, with Japanese runners making up about 60 percent of the total field in recent years.
If you're on Oahu — especially, if you happen to be near the marathon course — we recommend checking out the race and cheering on the participants. The hardcore athletes will finish before 8 a.m. But the easier-going recreational runners and walkers — some decked out in comical and elaborate costumes — will be on the course for a large chunk of the day.
Maybe they'll inspire you to give the Honolulu Marathon a go next year. Not sure you can hang in there for a full marathon? Here's another bit of inspiration: Earlier this week, Hawaii Gov.. Neil Abercrombie honored part-time Honolulu resident Gladys "Glady" Burrill, who is completed last year's marathon at the age of 92.
It took Burrill nine hours, 53 minutes and 16 seconds to power-walk and jog to the finish line during the 2010 race. She completed her first Honolulu marathon in 2004 and then went on to complete four in a row. This Sunday, she's reportedly slated to take part in the marathon's 10-kilometer race walk.
For additional information about the 39th Honolulu Marathon, click here.