VIDEO: Kilauea volcano lava lake rising, falling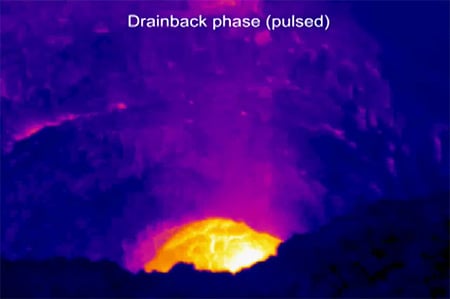 Regular HawaiiMagazine.com visitors know that we've been closely following activity at Kilauea volcano's Halemaumau crater since a summit vent opened last March. The slowly-widening vent has been sending up a thick plume of steam and ash into Big Island of Hawaii skies 24/7 ever since, with some recently slackening in activity but no clear end to the eruption in sight.
Clear overhead video footage of activity within the vent has been a rare catch for Hawaii Volcano Observatory geologists during their daily flyovers. So rare, in fact, that HVO has posted just one video of the lava lake roiling within the Halemaumau vent, last September.
Recently, however, HVO's Web site posted thermal imagery showing more clearly defined lava lake activity about 130 yards below the Halemaumau crater floor. The video—shot last week—is sped up to show the cyclical rising and draining of magma within the vent chamber.
Geologists characterize the typical phase of lava ebb and flow in the vent as a rapid and loud rise of magma marked by intense spattering, followed by a slower period of magma draining out of the chamber. Rinse and repeat.
The reason for the filling and drainback? What HVO geologists call "episodic gas accumulation."
That's right, folks: "Volcanoes … They're just like us."