VIDEO: Where Big Island of Hawaii lava meets the sea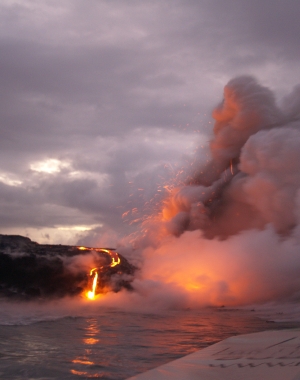 ---
In the September/October 2009 issue of HAWAII Magazine, writer David Thompson takes you right off the Big Island, where the lava from Kilauea's pours explosively into the sea. Here's video of the same trip, courtesy Lava Ocean Adventures.
There's nothing like bobbing around in a small boat at the violent intersection of cool seawater and 2,100-degree lava. The sea roils and boils as molten rock sometimes gushes, sometimes oozes and often explodes into it.
Steam plumes, weird weather, superheated floating rocks, water hot enough to cook a lobster.
Thompson was on the Lava Kai, with Capt. Shane Turpin of Lava Ocean Adventures. The pictures were spectacular, but here's something we couldn't put in the pages of the magazine: not one, but two videos of the experience.
Lava pours down in streams off the coast of the Big Island, as the Lava Kai approaches shore.