Virgin America celebrates first Hawaii routes with $199 fare discounts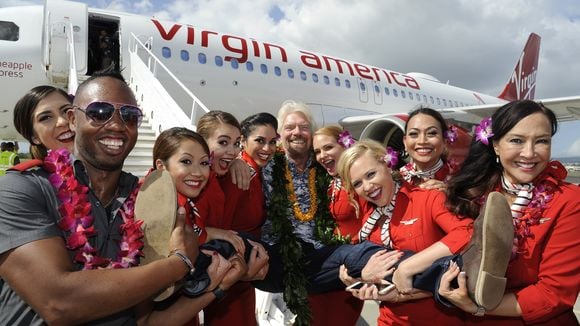 Yup, $199.
This winter, Virgin America is flying from California to Hawaii, its first routes to the Hawaiian Islands, at a starting rate of $199 each way (mandatory taxes and restrictions applying).
That's a round-trip rate and price point under $400, which is considered a big bargain for West Coast travelers looking to escape to the 808 State.
On November 2, travelers began flying from San Francisco (SFO) to Honolulu (HNL). On December 3, Virgin America begins operating its second route from San Francisco to Kahului, Maui (OGG). Flights depart from San Francisco International Airport's new Terminal Two.
Seats at this price, which Virgin has coined its "Now Serving Paradise" fare sale, are obviously filling up—fast. When we checked this morning, the lowest fares we found for a round-trip from San Francisco to Honolulu began at $289 and scattered throughout the next five weeks. (The fares take a steep rise in comparison around the Thanksgiving holiday, naturally.)
When we checked in on the Maui, the $199 fares were still readily available, but only during those first two weeks of December, before rising to its next lowest fare at $335 through the summer months.
Its Hawaii, flight services operate as follows:
SFO to HNL — Depart 7:45 a.m. — Arrive 11:25 a.m. — Daily
HNL to SFO — Depart 12:55 p.m. — Arrive 8:15 p.m. — Daily

SFO to OGG — Depart 7:55 a.m. — Arrive 11:40 a.m. — Tuesday, Saturday, Sunday
OGG to SFO — Depart 1:10 p.m. — Arrive 8:15 p.m. — Tuesday, Saturday, Sunday
SFO to OGG — Depart 6:05 p.m. — Arrive 9:50 p.m. — Monday, Wednesday, Thursday, Friday
OGG to SFO — Depart 11:20 p.m. — Arrive 6:25 a.m. (+1) — Monday, Wednesday, Thursday, Friday
The airline's arrival in Hawaii is considered to be a transitional moment for the niche company that generally focuses on the needs of the businesses traveler. The Islands signify Virgin is spreading its wings into the domestic leisure market.
Also with these routes, Virgin rolls out its newest aircraft, the Airbus A320. It's one of the reasons the airline has stayed away from Hawaii's Pacific waters, Mashable reports, citing the plane's fuel efficiency as a necessity for making the average 2,366-mile journeys.
As a result of the added competition to the market, "tickets to paradise" have been discounted across the board, according to Time. Hawaiian Airlines, United and Delta are all offering round-trip flights to Hawaii out of San Francisco with fares starting on average at $400, which is about a $200 discount for trips that usually run at a price point of $600.