Visitors to get closer look at Kilauea volcano lava flow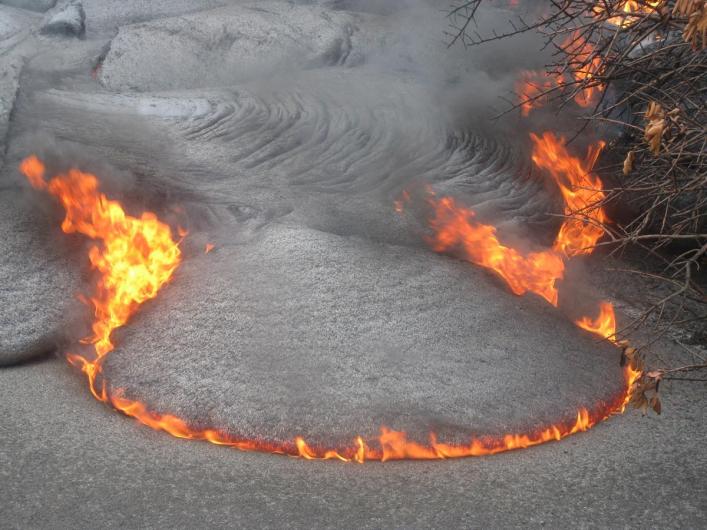 Visitors to the Big Island of Hawaii eager to see lava from Kilauea volcano as it approaches the Puna coastline will soon get a better, closer look at the flow.
The current Kalapana coastline viewing area, maintained by Hawaii County Civil Defense, will be extended over freshly hardened lava flows, according to the Associated Press. What this means for visitors making the long drive to the site from Hilo or Kona is the best view of the lava flow in recent months.
According to Hawaiian Volcano Observatory geologists, one of two current breakout Kilauea lava flows in the Kalapana area had advanced within 100 feet of the end of Highway 130 as of 1 p.m., Sunday. The trail to the viewing area typically begins near the end of the highway, depending on the position, speed and direction of the lava flow on any given day.
Big Island Civil Defense officials did not immediately announce when the lava viewing area would be extended. Currently, no lava flows from Kilauea volcano are entering the ocean.
News of the improved vantage point for visitors arrives at an ideal time for Kilauea watchers. The Big Island's second annual Volcano Awareness Month runs through the entirety of January, organized by Hawaiian Volcano Observatory with Hawaii Volcanoes National Park, Hawaii County Civil Defense and the University of Hawaii at Hilo.
The park will host evening talks, guided hikes and other opportunities to learn more about volcanoes, especially the Big Island's active volcanoes, Kilauea and Mauna Loa.
January 3 marked the 28th anniversary of the start of the current Kilauea eruption, on the volcano's east rift zone. The eruption remains as active as ever in two locations—on the east rift zone, and at Kilauea summit's Halemaumau crater. In the last year, lava flows from the eruption destroyed two homes in Kalapana Gardens — the same area where lava destroyed 104 structures in 1990.
For a complete listing of Volcano Awareness Month events and activities—and for daily updates on Kilauea volcano activity—visit the Hawaiian Volcano Observatory website.