Waikiki Spam Jam Festival celebrates Hawaii's favorite canned luncheon meat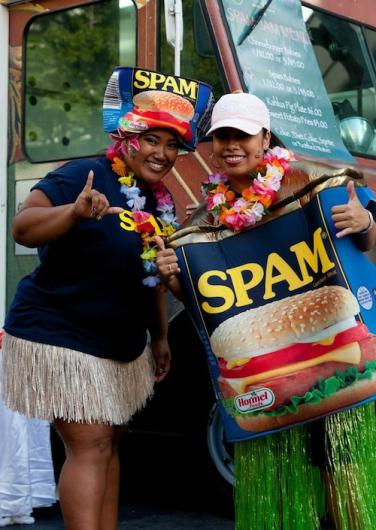 "Spam-jammers," fans of our favorite canned pink luncheon meat, will gather on Oahu's south shore this weekend for the 11th annual Waikiki Spam Jam Festival.
And what does it mean to be a Spam-jammer? Well, according to event organizers, it means that you're enthusiastic about the chance to sample the salty pork foodstuff served up in a variety of culinary styles. At the festival, set for 4 p.m. to 10 p.m. on Sat., April 27, Spam-jammers will be eating plates of "Spam Fusion Fajitas," Spam katsu, Spam won ton, Spam lau lau, Spam ravioli, spam tacos, and even Spam poke.
As you probably know, Hawaii is jam-packed with Spam-jammers. We eat up nearly 7 million cans of Spam a year — more than any other state across the nation, according to Minnesota-based Hormel Foods, producers of the canned luncheon meat since 1937.
In HAWAII Magazine's first-ever "Readers' Choice Awards," featured in the March/April issue now on sale, Spam Jam is the top-ranked best annual food festival. If you go to this weekend's fest, expect a bustling crowd. Last year's Spam Jam crowd projection was estimated at 20,000.
As in years past, Kalakaua Avenue, the main thoroughfare through Waikiki, will be closed to automobile traffic during the festival, and admission is free. The blocked-off area will be lined with food booths. More than one dozen popular restaurants and eateries will be serving up everything from breakfast entrees, such as spam-in-a-pancake, to dinner desserts. Spam cheesecake, anyone?
The entertainment stages will spotlight Hawaiian music and hula; ukulele-playing champs; and various other musical genres, from rock to funk. Merchandise booths stocked with T-shirts, shorts and other Spam paraphernalia. In addition, volunteers will be on hand to collect donations of Spam products for The Hawaii Foodbank.
For additional information about the Waikiki Spam Jam Festival, click here.