Waikiki's Freshest Shave Ice Shop is Worthy of Your Social Media Feed
No, Lahaina Shave Ice isn't on Maui—it's actually right off of Waikiki's main drag, and its shave ice looks as good as it tastes.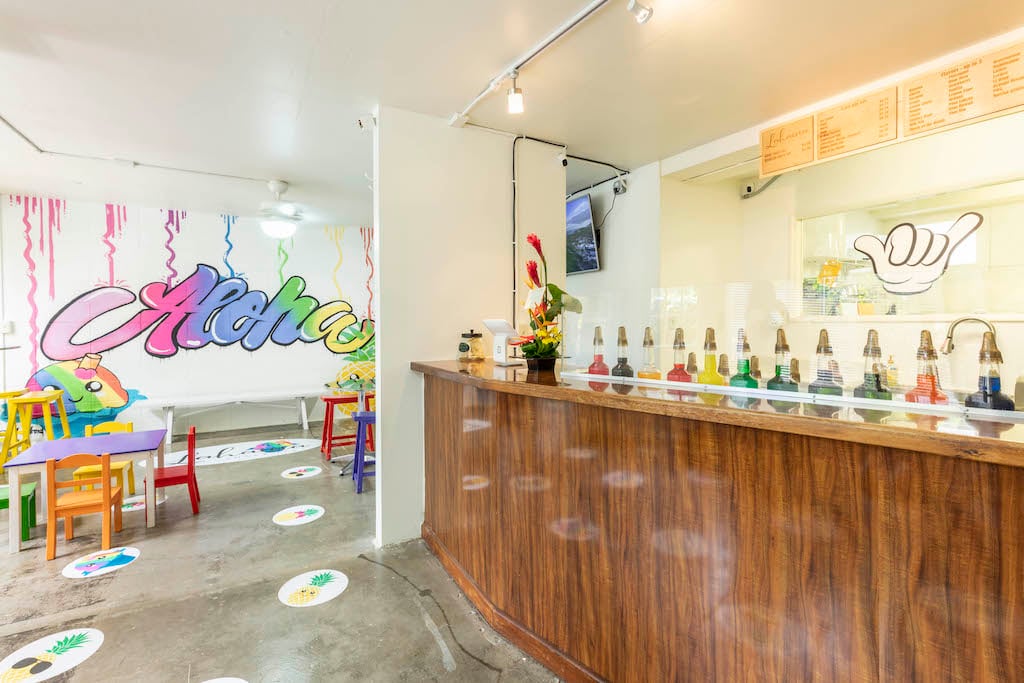 When Oahu's weather gets hot and humid, there's only one thing on my mind: a nice, heaping serving of shave ice, soaked with flavorful syrup, drenched in condensed milk and topped with li hing mui powder. Today was no different, and to give my air conditioner a break, I grabbed my girlfriend and headed to the recently opened Lahaina Shave Ice, which contrary to its name is not in Lahaina—it's actually right in Waikiki, just up from Fort DeRussy Beach Park.
Strolling up Beach Walk, I see a sign that says "SHAVE ICE" in big, bold capital letters. I've found what I was looking for. The shop is small, nestled into a nook on the same property as the Pagoda Waikiki, with loud, colorful paintings of shave ice on its windows. The exterior is cute enough, but it's even better on the inside, thanks to a large "Aloha" mural on the wall in rainbow colors, created by talented painter and muralist Luke DeKneef.
After a quick photo shoot of the wall art, Kaila and I gaze up at the menu of flavors and combination options. With over 25 flavors, some of which I'd never heard of before like ube, milk tea, gummy bear and thai tea, it's hard to pick. I go with li hing mui, green tea and ube—you can choose up to three flavors—while Kaila goes with the Dole Whip. You heard that right. Lahaina Shave Ice serves the iconic just-one-bite-and-you're-hooked pineapple soft serve created by Dole Food Co. The shop even does a Dole Whip float, served with your choice of juice and for an additional 50 cents, fresh fruit.
Sitting down at our adult-sized table—there are adorable mini keiki (kid) tables too—I dig into my frosty feast, and can't help but notice how well the ice has been shaved. Sure, that might sound like a weird concept, but shave ice can often be too hard, making it difficult for the syrup to soak in, or too fine, meaning the syrup melts through the ice before you can get it into your mouth. However, the shave ice here has a perfect consistency, and I'm pleased with how good the ube tastes, the dark horse of my three choices. And as tasty as the li hing mui powder is, I almost wish I tried some of the shop's other toppings too, like the homemade mochi, caramel condensed milk or even the boba.
Looking around the shop, I'm also surprised to see that Lahaina Shave Ice sells a lot more than just shave ice. Breakfast bowls of rice, eggs and Portuguese sausage are at the front of the register, along with Maui Manjookies, a cross between Japanese manju and cookies. The shop also sells salads, sandwiches and, get this, Spam musubi with pieces of Spam on both sides of the rice. Now that's what I'm talking about.
Before Kaila and I leave, I have to ask the shave ice craftsman, Mo (his actual name is Marvin, but everyone calls him Mo) why the shop is called Lahaina Shave Ice. Apparently the name was inspired by owner Kristen Moetulu's love for Maui, an appreciation she gained from frequent visits with her grandpa, who was born, raised and resided in Lahaina. And as sweet as that story is, all I can think about is how grateful I am that the shop isn't in Lahaina, and instead is here in Waikiki, ready to rescue me from these hot and humid days.
Lahaina Shave Ice is at 260 Beach Walk, Waikiki, Oahu, and is open from 9 a.m. to 8 p.m. daily. For more information, call (808) 773-7012, and follow on Instagram @lahaina.shave.ice.