Waikiki's Halekulani featuring Imperial Hotel Tokyo's most celebrated dishes in October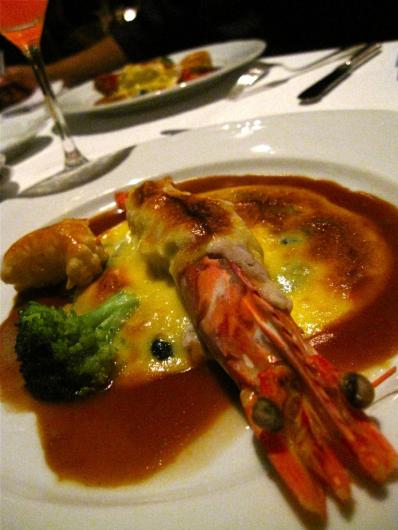 A sampling of the most celebrated dishes to ever exit the kitchens and restaurants of Japan's Imperial Hotel Tokyo are being showcased throughout the month of October by Waikiki's Halekulani hotel.
"A Taste of Imperial," a special three-course tasting menu at the Halekulani's oceanside Orchids restaurant offers a modest, but intriguing glimpse into the modern Imperial's very substantial restaurant options, and the culinary tastes of a handful of notable guests welcomed over its 115-year history.
Pay a visit to the actual Imperial Hotel in central Tokyo and you'll find more than 17 restaurants and bars offering a range of cuisine including French, Japanese, Chinese and American cuisine, in both casual and formal settings. The courses on Halekulani's "A Taste of Imperial" menu, however, seem to have been culled primarily from the Imperial's French- and Western-inspired La Brasserie and American-classic Parkside Diner menus.
The Parkside Diner's chef de cuisine Eiichi Ohura worked closely with Halekulani executive chef Vikram Garg and Orchids chef de cuisine Darryl Fujita to design the "Taste of Imperial" course menu—the better to make ample use of fresh Hawaii-grown and –raised ingredients in preparing the dishes. Ohura and five members of his kitchen team were briefly in residence at the Halekulani earlier this month to launch the three appetizer, three entrée, two dessert menu—which includes a trio of signature Imperial Hotel cocktails.
The three-course "A Taste of Imperial" tasting menu is $65 per person. The menu is available through Oct. 31.
When we stopped by for dinner on a recent Saturday, Orchids' Fujita had just taken Ohura and his team on a whirlwind half-day Oahu chef's tour—a before sunrise visit to the Honolulu Fish Auction, breakfast at Kapiolani Community College Farmers Market, and a lunch of local-style comfort food at Dillingham Saimin. Ohura's beaming smile said it all. He was having a great time in Hawaii.
Here's a look at our "Taste of Imperial" dinner, in words and photos:

The evening view from our table at Orchids …

… included this sunset.

Imperial Hotel Tokyo Parkside Diner chef de cuisne Eiichi Ohura (left) and Orchids at Halekulani chef de cuisine Darryl Fujita dropped by our table to chat.

The "A Taste of Imperial" menu. Note the signature Imperial Cocktail menu. Each cocktail had a story about its creation.
The Tinkerbell … Recommended to Walt Disney animation artist Mark Davis, who was a regular at The Old Imperial Bar in the 1990s. Davis created the character of Tinkerbell seen in Disney's classic version of Peter Pan. The cocktail's purple color comes from sweet Liqueur de Violette, shaken with silver rum, peach liqueur and fresh lemon juice. Guess who the green maraschino cherry represents.
The Imperial's first cocktail, the Mount Fuji, has been on the hotel's cocktail menus since 1924. Fresh pineapple juice and cream gives the cocktail an almost tropical flavor, perfect for Orchids' oceanfront setting. Shaken vigorously with maraschino liqueur, fresh lemon juice, egg white and and an herbacious dry gin, however, the Mount Fuji is one serious cocktail. My favorite of the three Imperial cocktails.
Named after the pink cherry blossoms that bloom on the Imperial Hotel's riverfront each spring, the Sakura is for lovers of sweet cocktails only. Peach liqueur and Cointreau provide a serious sugar rush. I preferred the cocktail's finish of cherry brandy and tart of fresh lemon juice.
The first appetizer … Prosciutto with Asparagus and Corn Bavarois. The best part of the dish was the bavarois—typically a gelatin-thickened dessert set in a mold before serving. Here, it was flipped into an appetizer and infused with the famously sweet flavor of Kahuku-grown corn from Oahu's north shore. (Note: all of the dishes on the "Taste of Imperial" menu are actually double the portions shown in our photos.)
The second appetizer was a cool treat for the warm evening—a very Japanese terrine of chicken, taro root, burdock, potato, shiitake mushrooms and carrot, wrapped in smoky ham. Side dollops of savory chicken aspic and coarse mustard dressing matched wonderfully with all the terrine ingredients.
My favorite of the Imperial menu appetizers, hands down, was Chef Ohura's Parkside Diner Seafood Salad. The Parkside favorite is a seafood lover's dream—calamari rings, shrimp, shredded crab and pickled herring tossed with a medley of seasonal greens, seaweed, sea asparagus and crunchy with tobiko in a light mustard dressing. Orchids should steal it for its own menu.
Prawn and Snapper Gratin "Queen Elizabeth" is Chef Ohura's Hawaii take on the Imperial Hotel's Gratin of Shrimp and Sole Queen Elizabeth II. The entree was originally created for the Queen's 1975 visit to the hotel. For the Hawaii menu, Ohura sourced locally sourced snapper and Kahuku-raised prawns. The entree's arrival was accompanied by a luxuriant seafood aroma from one of its two sauces—made with lobster stock.
My favorite of the "Taste of Imperial" menu's three entree choices was this Baked Sea Bass with Shiitake Mushroom Butter. The revelation here was Chef Ohura's "shiitake crust"—house-dried fresh shiitake pureed with butter and mixed with panko breadcrumbs and garlic, generously layered on the sea bass then baked. The buttery, shiitake-infused crust was a flavorful treat, and a perfect match for the moist sea bass.
One of the Imperial's most-copied dishes, the Chaliapin Steak was created by the hotel's chefs in 1936 in honor of Russian opera singer Fyodor Ivanovich Chaliapin. The singer loved the dish—prime striploin pounded thin and tender, topped with a generous layer of sweet sauteed onion. It remains and Imperial Hotel favorite. Ohura used pureed Maui onions for the Hawaii menu.
Dessert! Green tea "tiramisu"—a layered treat of fresh cream and green tea-infused tiramisu. It was light, not overly sweet, with a very upfront green tea flavor. If you love everything green tea, the dessert is pretty much a must-have. You'll want to lick the ramekin.
The "Taste of Imperial" menu's Savarin Balls with Berries and Bavarian cream dessert. A sweet and tart balance of fresh blueberries, raspberries and mint lend this light dessert the much of its wonderful natural flavor and aroma. The sweet liqueur-soaked pastry balls and Bavarian cream provide an inspired bonus to every spoonful.