Waimea Valley reopens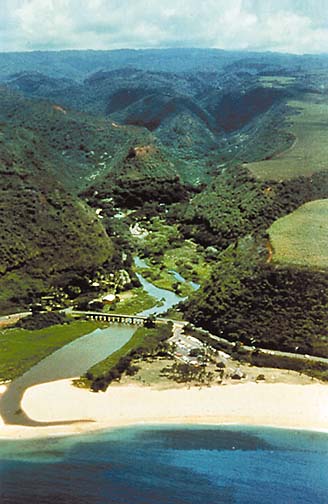 You Ask. We Answer.
We got an e-mail from a reader named Cathy, asking, "Is Waimea Valley Audubon Center anything like it was years ago when it was Waimea Falls Park?"
Short answer: No, and no.
Oahu's Waimea Falls Park was a commercial operation, with shuttle service, cliff diving exhibitions, kayaking, horseback riding, mountain biking, even ATV rentals.

I remember the ATVs well. I broke a wrist when one flipped over on me on one of the park's rutted back roads.
In the 1990s the park suffered from the tourism slump—and environmentalists opposed expansion of the theme park aspects into the pristine 1,875-acre valley. Its last owner even suggested building luxury homes there.
The land eventually became public, and the Audubon Society began stewardship of the property—because it contained 5,000 species of native plants and a number of increasing rare bird and fish species.
But here's the second No. At the beginning of the year, the Audubon Society left the park, and the park's new owner, a non-profit funded by the state Office of Hawaiian Affairs (OHA), took over.
Here's the good news. On Aug. 16, the park reopens as Waimea Valley. It's one of the few ahupuaa—whole Hawaiian land divisions—still in its natural state. It has both archeological sites and a vast collection of native plants. There are to be botanical, cultural and historical tours. OHA promises an authentic cultural experience.
One big attraction has always been Waimea Falls itself, where you can still swim. You should know, however, that like many waterfalls in Hawaii, Waimea Falls dries up in summer and flows most heavily in winter.
Just to be clear. We are talking about Waimea Valley, on Oahu, across from the North Shore's Waimea Bay. Not Waimea on Kauai, nor the ranching town on the Big Island.
The park is open every day except Christmas and New Years. There's a $10 adult admission charge, $5 children and seniors.