Watch for humpbacks on this Maui whale watching adventure
Ultimate Whale Watch & Snorkel takes its guests on a search for one of the ocean's largest mammals, the North Pacific humpback whale.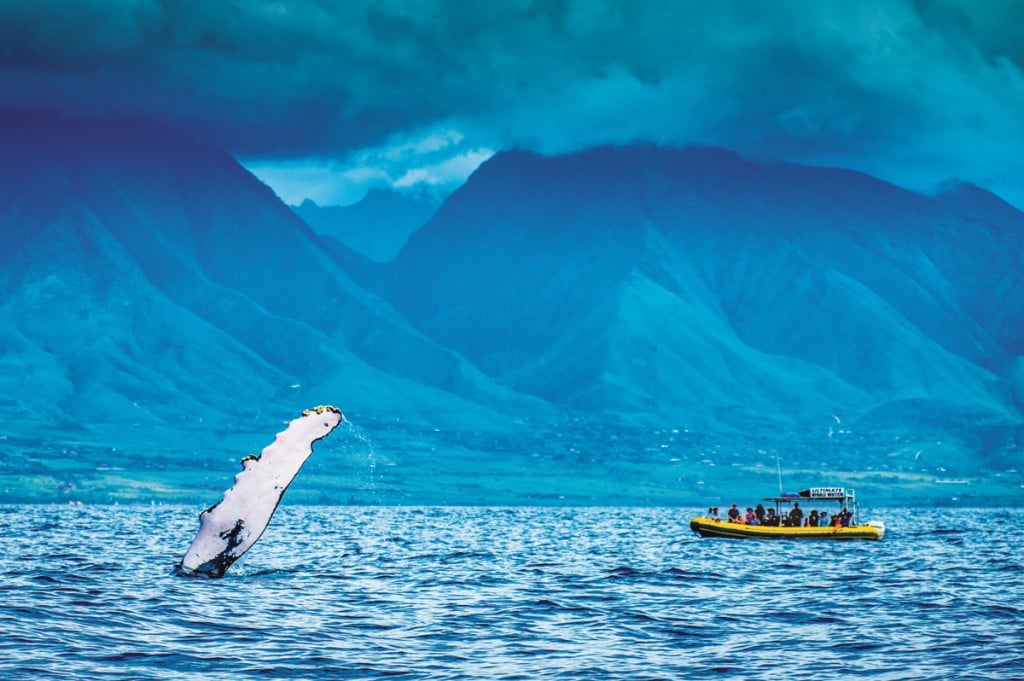 A massive pectoral fin of a North Pacific humpback whale rises slowly out of the water. Now nearly vertical, it stops moving for a moment, as though waving hello. Only 30 feet away, I'm enamored, if not a little frightened, at the absolute size of the creature's fin. At least 10 feet long, it returns to the ocean with a thunderous splash, and the fear in the back of my mind is replaced by pure wonder as the whale, easily three times larger than our small boat, gracefully swims away.
Right off the coast of Maui, I'm on a sturdy inflatable Zodiac raft, operated by Ultimate Whale Watch & Snorkel. That was our first encounter with a whale, and we've only just left Lahaina. The waters, clear and blue, are filled with North Pacific humpbacks that made the trip from Alaska to Hawaii to mate and birth calves in safer, warmer waters. The peak season for this activity is in Hawaii's winter months, from November to March; the whales prefer the shallower waters off the west coast of the island as they make for ideal conditions to raise their young.
Now leaving the spot of our first sighting, our experienced captain turns up the throttle on our vessel and gets us into the open seas. The tour company uses Zodiacs, which are smaller and faster than many of the ships used for whale watching tours. This means we can explore the bay with ease, zipping along from one whale watching spot to the next. There's a shaded seating area, which is occupied by more than a dozen passengers, so I'm grateful I brought my large straw hat. The Maui sun beats heavily down on us.
As our eyes scan the ocean for signs of movement, the tour's certified marine specialist explains the maneuvers and actions humpback whales use to attract mates, such as pectoral slaps, tail slaps and breaching. As luck would have it, our captain sees a flurry of activity nearby. Clutching my hat tight, we pick up speed and the wind rushes past. I feel like Indiana Jones out on an adventure, but instead of searching for long-lost treasures, we're searching for whales.
Although they're often called gentle giants, the rubbing and bumping between the whales in this group would say otherwise. Our onboard marine specialist says this is likely a group of males competing for the attention of a single female, using aggressive behaviors and maneuvers in hopes of chasing each other away from their potential mate. As we gaze out at this mating display and the ensuing commotion from nearly 100 yards away (as close as watercraft of any kind are legally allowed to be to these animals), I hear a chorus of oohing and ahhing from the other side of the boat. Somehow I missed seeing a whale swim slowly under the vessel and pop its head up for a closer look at us. This act—a humpback approaching a vessel on its own—is referred to as "mugging." And fortunately for us, the Zodiac cruiser, which sits low on the water, gives us a perfect close-to-the-water view of the encounter.
After two hours of whale watching, we head back to Lahaina Harbor, and just as Maui's iconic seaside community comes closer into view, I spot on the horizon what looks like a small grayish mass flopping in and out of the water. Coming in to investigate, our group is told that it's, in fact, a young calf, or baby whale, learning how to breach. Its mother, and a male suitor following the mother, trailing close behind it, this mini-humpback gives us quite the performance, half hopping, half flopping, in and out of the water with the energy and enthusiasm of a young puppy. To make matters better, one of its mother swims near, but not too close, to our vessel and makes a breach of its own, emitting a slew of cheers and hoots from the boat's passengers, myself included. Lifting its hulking mass so elegantly out of the water, I'm once again shocked at the colossal scale of this creature. As the whale re-enters the water, the humpback ohana begins to swim away, and I keep my eyes glued to them until the last glimmer of their crescent-shaped tails disappears into the deep blue sea.
Ultimate Whale Watch & Snorkel
Tour prices start at $33 per adult, $25 per child. Lahaina Harbor, 675 Wharf St., Lahaina, (808) 667-5678, ultimatewhalewatch.com.