Watch Jack Johnson's Kokua Festival 2008 performance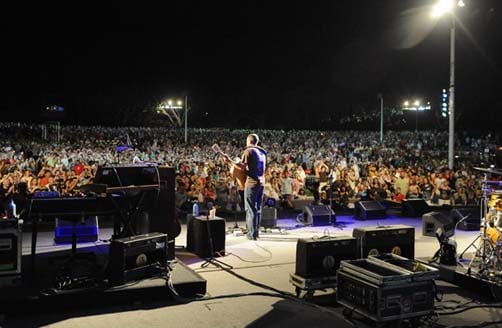 Couldn't make it to Kokua Festival last month?
The entirety of festival co-founder and headliner Jack Johnson's performance is now online at MSN Music's IN CONCERT site.
Free.
The bad news? None of the much-buzzed-about set by Dave Matthews and Tim Reynolds, nor any other acts are included.
But you won't have to endure long waits in line for organic cotton Kokua Fest shirts, pricey beer or veggie wraps. And Matthews and Reynolds make an appearance late in Johnson's set on a cover of Jimmy Buffett's "A Pirate Looks at 40."
So make yourself a sandwich, pour a cold one and click here for Jack's entire 23-song performance from the Waikiki Shell.
If you find yourself needing a break from all the mellowness, check out our on-the-scene posts from Kokua Festival 2008 here.