We made Venn Diagrams to help you plan your next travel date
When your interests clash, meet in the middle.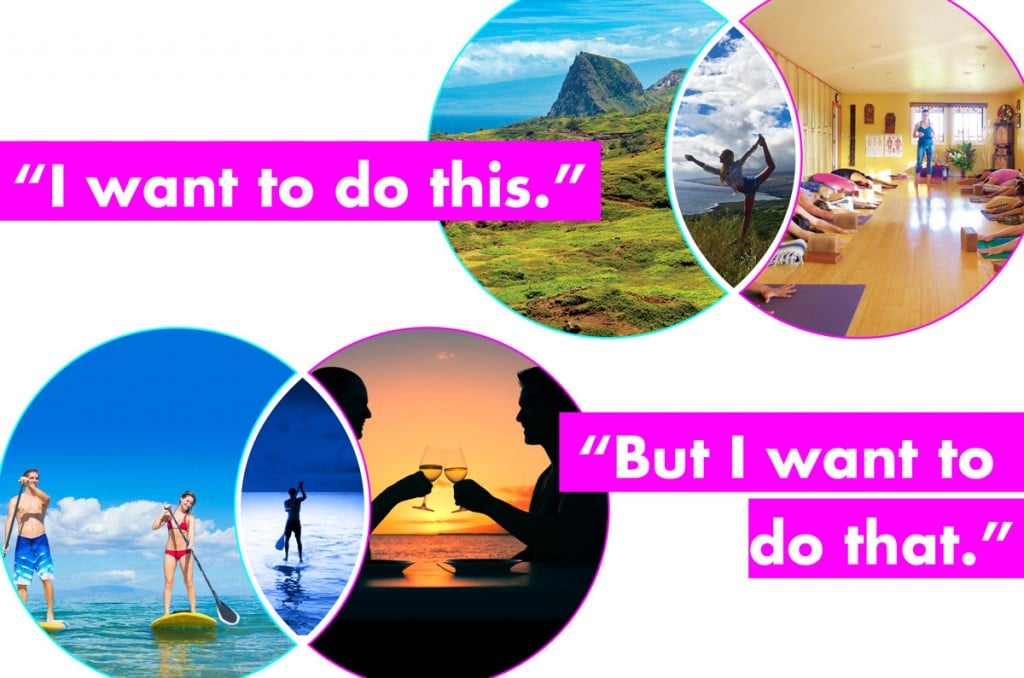 You're here in Hawaii, adventuring around the Islands with your partner, enjoying all the outdoor beauty it has to offer. You're snorkeling, surfing, grinding on Hawaiian food and poke…
Then, tastes suddenly clash. Your interests differ: One of you wants to do this; another wants to do that.
Well, don't let that stand in the way of still enjoying the great outdoors—together. Better yet, it could lead to the most fun and exciting date idea of your trip. Here are a few hybrid excursions that naturally blend a variety of classic travel activities.
Scenario A
The compromise: Venture around the island on a hike and yoga tour with Maui Yoga Tours. It starts with relaxing yoga on a sea cliff in West Maui, and finishes with a moderate hike to Kahakuloa Head.
Scenario B
The compromise: Full-moon standup paddleboarding with Turtle Bay Resort in the calm waters of Kawela Bay offers the best of both worlds—and in a different environment. Partners are driven to this moonlit bay near the property that's illumated with floating nights to mark the waters' boundaries. On shore, a catered meal by campfire awaits.
Scenario C
The compromise: Puuhonua o Honaunau National Historic Park is one of Hawaii Island's most significant places—a living museum situated on the South Kona coast. Learn about traditional Native Hawaiian customs and norms in an area deemed "a place of refuge."