We need to relive yesterday's voggy Hawaiian sunset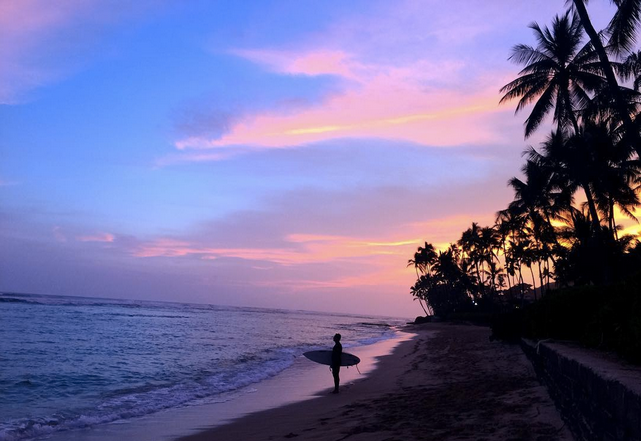 As much of an annoyance vog, or volcanic smog, can be, it's a part of island living. As we all respectfully understand, nature does what she does here, including filling our skies (and lungs) with the stuff courtesy of Kilauea's constant activity on Hawaii Island. The toxic gas is attributed for causing headaches, watery eyes, respiratory issues, even just messing with people's moodiness all around.
The bright side? Cotton-candy, purple-pink, red-and-orange sunsets like last night's across the Islands. Hydrochloric acid and sulfur dust particles from the Kona volcano's steam plumes color the skies at dusk with some of the most mystical sunsets you'll ever see.
There isn't really a way to track when the vog will put on the type of sunset shows they famously do here, let alone descend (however a "prediction project" from the University of Hawaii is trying to with a feasibility study that forecasts its conditions). Just be aware of our tradewinds and have your cameras at the ready like pretty much every person in Hawaii did yesterday.
It's easy to see why everyone loves a voggy Hawaiian sunset.

This was taken yesterday off of Lahaina on Maui.
And basically has everyone rushing to the beach at dusk.

Honolulu city is blanketed in a warm orange, pink and blue.

Soooo ~ ~ pretty ~ ~

It really asks that you slow down your surf sesh to just take every. single. moment. to enjoy it.

At times it was a fierce, fiery orange.
Before turning the sky a completely cool pink.

Then a rich, soft orange.

Where's the pause button???

Oahu really got plastered in the stuff.

It was so pretty it peeked through everything.

Piers, shopping malls, your pau hana drink sesh—you can't escape a sunset like this.
Everyone was head over heels.

And people were able to truly bask in its glow.

*HEART EYES EMOJI* *HEART EYES EMOJI*

***ALL THE HEART EYES EMOJIS***
You didn't even need to be facing the beach to see how gorgeous it was.

No filter. No words.