We Tried the Limited-Edition Pumpkin Spice Spam
And it's not as bad as it sounds.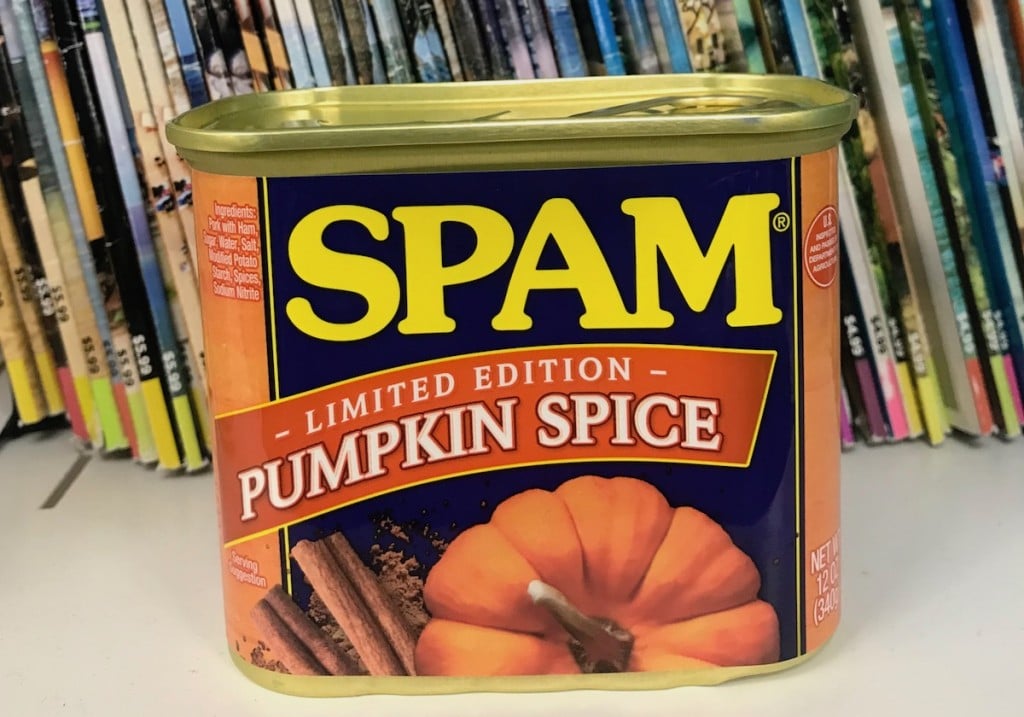 Nothing has garnered more comments—and gifs—on my Facebook page lately than a photo I posted of a can of Pumpkin Spice Spam.
Comments ranged from, "OMG! I can't wait to try it!" to "Just. No."
SEE ALSO: Spam is Releasing a Limited-Edition Pumpkin Spice Flavor
The limited-edition flavor is one of the more intriguing—if not peculiar—pumpkin spice products on shelves right now. (It's available starting today, Sept. 23, at Spam.com and Walmart.com only.) And since we live in the state with the highest consumption of Spam—we devour 7 million cans of it a year—we felt it was our duty, our responsibility to try this new flavor and report back.
On Friday we gathered a few co-workers to taste-test the Pumpkin Spice Spam sent to our Downtown Honolulu offices a week before it was available online. Spam recommended we toss fried cubes into a frittata or bake it into homemade cornbread. We decided to chop it up, fry it until slightly crispy and pair it with homemade buttermilk waffles topped with butter and syrup. (For more recipes, click here.)
I could smell the seasonal spices—cinnamon, clove, allspice, nutmeg—as soon as I popped open the can. The combination of these spices with Spam made sense to me: Imagine these warm fall flavors on brown sugar-glazed ham. Doesn't that work?
The only problem was I'm somewhat of a purist when it comes to Spam. With the exception of a teriyaki glaze when used in a musubi, I prefer my Spam sliced thinly and fried extra crispy, to the point where the edges are almost burnt. Pumpkin spice was borderline sacrilegious.
But, honestly, it really wasn't that bad.
The meat was still salty and porky, but the combination of spices gave it some warmth and depth—and even a little sweetness. It paired well with the waffles and maple syrup—and I'm confident it would work in an omelet or potato hash, too.
In a Spam musubi, though? I'll pass.
The verdict: Don't knock it till you try it.