We visit the newly renovated Ritz-Carlton Kapalua on Maui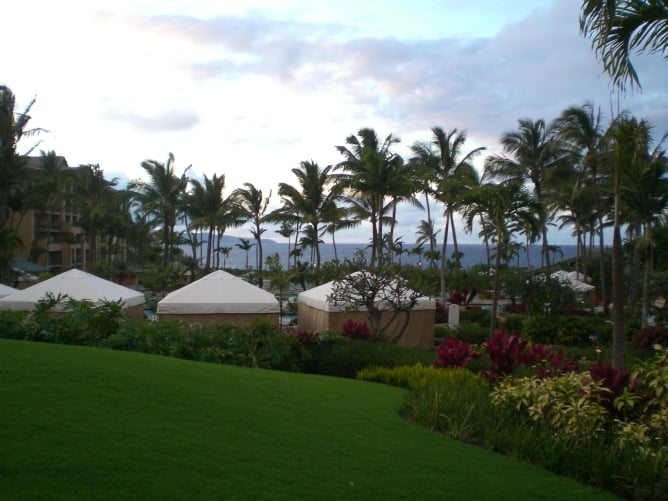 When the Ritz-Carlton Kapalua opened in 1991, it was the last of the cookie-cutter Ritz-Carltons, very New England-looking in the middle of some of Maui's most beautiful real estate, the 23,000-acre Kapalua Resort.
When the hotel shut down for a $160-million renovation last year, its full-time Hawaiian cultural expert, Clifford Naeole, asked that all new decorative items pass through him to make sure they were authentically Hawaiian. "Watch what you wish for," he says. "They let me, and it was months of work."
We finally got a chance to experience the property firsthand. Although we were working, we've decided that from now on we'd prefer to work in a Ritz-Carlton club lounge, with a friendly concierge and an endless supply of made-to-order cappuccinos and Ritz-Carlton chocolate chip cookies.
But really, our favorite part was walking through the property with Naeole (below), who is rightfully proud that all the details are now culturally relevant. He pointed out that the wood carvings in the lobby are now the insignia of the great Maui chief, Pi'ilani, for whom the main highway through West Maui is named.


As we passed by the new lobby sushi bar, Naeole noted that the proposed artwork was of canoes that weren't remotely Hawaiian. "What are you guys trying to do to me?" said Naeole, who made sure that the décor is now a mural of legendary Hawaiian voyaging canoe, Hokulea.
The artwork is now all Hawaiian, the lobby is filled with true Hawaiian artifacts, and our favorite detail is the small umeke (wooden or gourd bowls) that are dotted around the property, including the entrance to every room in the spa. Reach in and you get a Hawaiian value to live for the day.
"Of course, all that pales compared to this," said Naeole as we walked outside and looked down the long sweeping lawn, across the undisturbed ancient burial site, to the pristine blue waters of Kapalua Bay. "This is my favorite view in the Islands," he said.