We wade into the new Serenity Pool at Four Seasons Resort Maui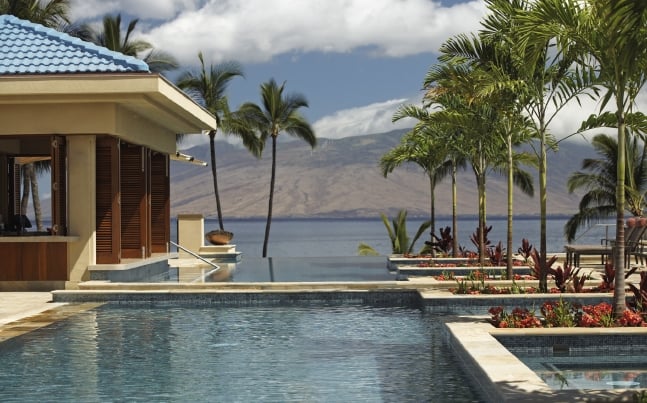 I am trying not to get used to this.
I am currently sitting in a cabana next to the Four Seasons Resort Maui at Wailea's new $9 million Serenity Pool.
Why serene? Guests under the age of 21 have to confine themselves to the resort's two other pools.
At this one, there's only the sound of the small bubbling fountains at the pool's borders. You're on an elevated terrace here. All you can see past the pool's infinite edge are the West Maui Mountains some 10 miles across Maalaea Bay.
A cabana at the Serenity Pool costs $300 a day. In addition to a pair of lounge chairs, each 160-square-foot cabana has a large sectional couch, a safe, a refrigerator complete with chilled Evian spritz, a ceiling fan and a flat screen television with wireless earphones.
If that's not enough creature comforts for you, there's a spa therapist on duty, should you need a poolside facial with all organic products.
Of course, there's a waiter bringing by drinks and snacks, plus a full breakfast and lunch menu-—not to mention a swim-up bar with underwater bar stools.
What you don't see much of is actual swimming. People read, doze, dunk in to cool off, wade over to the bar, perhaps hang on the far edge to admire the view.
But when I put in my daily laps, I suddenly heard music. Speakers below the surface play Hawaiian melodies that you can only hear with your head underwater.
Really, I'm trying hard not to get used to this.

Now if you'll excuse me, I think I'll order myself a classic mai tai and drift over to the pool's edge to watch the sun set between Maui and Kahoolawe.
Four Seasons Resort Maui at Wailea, 3900 Wailea Alanui Drive, (808) 874-8000, www.fourseasons.com/maui