West Oahu's Kahumana Organic Farm and Cafe serves delicious meals for a good cause
This mindful program serves healthy, ono food, while at the same time serving less fortunate members of the community.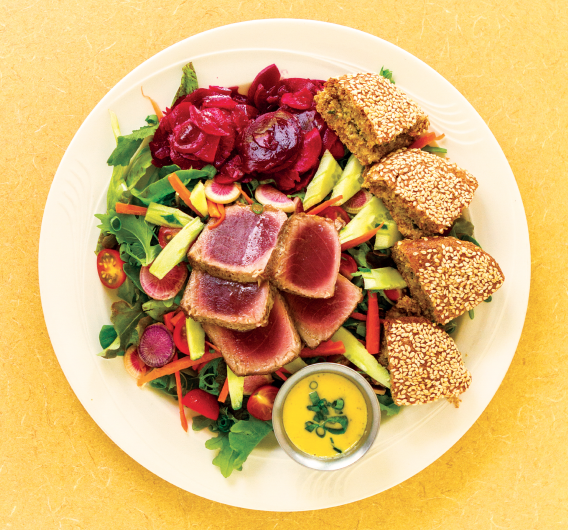 I'm trapped in a hipster cliche driving out to the Kahumana Community—an organic farm and cafe with Google Maps navigating my hybrid car.
The app's navigation leads me astray on Oahu's leeward side. Lost and late, my Honda Insight meanders around the rural roads of Lualualei Valley as the towering Waianae Mountain Range looks down in discernment on me for putting too much trust in technology.
"Silly hipster," the mountain seems to say.
After a few U-turns, I finally find the Kahumana Organic Farm and Cafe, where I'm greeted by Father Phil Harmon and CEO Tom McDonald, who doesn't laugh when I crack an "Old MacDonald Had a Farm" joke. Probably because he heard this shtick a million times; he's been the CEO for the past two years and a volunteer at the farm long before that. Thankfully, Harmon has a sense of humor and can laugh about my misplaced faith in mobile devices. We sit down in the café to talk about the farm's history and mission.
"The dream is to create the healthiest food possible to give to our local population," says the 69-year-old Greek Orthodox priest. "So many of the people here [on the west side of Oahu] suffer from diabetes, heart disease and obesity, and one of the things we can do in terms of healing is to bring healthy food, with joy and celebration."
Kahumana had its seeds in a nonprofit group home founded in 1974 by Harmon, who is originally from Maui and graduated from Chaminade University in Honolulu. It was designed to have a holistic approach, including people of various denominations and ethnic backgrounds. By 1977, the nonprofit had turned into Kahumana Community.
"We chose Waianae as the location because we love the farming aspect and we wanted to have a farm, but we also loved the people and our dream was that we would be a community of many different interests," says Harmon.
Today, the organic farm and café is the epicenter of the 50-acre Kahumana Community, which comprises four distinct campuses: three offer transitional housing for the homeless and the main campus features the farm, café, learning center and retreat homes. Kahumana runs the largest transitional housing program on Oahu for the homeless, serving approximately 250 families a year. They can receive vocational training in the hospitality industry and culinary arts working at the cafe under the guidance of seasoned sustainable café manager Robert Zuckerman and chef Ranjithkumar Ramankumar. It serves deliciously fresh, farm-to-table lunches (11:30 a.m. to 2:30 p.m.) and dinners (6 to 8 p.m.) Tuesday through Saturday, with vegan and vegetarian options in addition to locally caught fish and grass-fed meats. The commercial kitchen of Kahumana Cafe also prepares and delivers 1,200 healthy lunches a day for 35 schools.
"Homelessness at its core is, especially for our local families, separation from the aina, from the land, so what better way to get reconnected than to actually physically get reconnected to the land with a farm? We find it's quite effective, especially for local families, and also for those with disabilities," says McDonald. "People with cognitive and intellectual disabilities often feel separated from society because it's moving so fast; you come to a farm and it has its own pace, so it's a place for them to connect."
At the cafe, McDonald and Harmon recommend the Kahumana Cooler, an herbal blend that tastes like an ice tea, without the caffeine. Lunch is a vibrant display of the fresh food produced on the farm. Harmon's favorite item on the menu is the beets and eggs from the free-range chickens, while McDonald's is the Organic Keiki Greens salad, a blend of Asian greens and lettuce harvested at sunrise daily at Kahumana. I order the loco moco, which features an egg cooked over easy, served on top of a hamburger patty made from grass-fed local cattle, along with steamed vegetables.
In the past five years, the farm has increased its food production, supplying organic produce to many popular Oahu restaurants such as Roy's, Town and Monkey Pod Cafe.
"Food production has always been at the heart of a well-balanced state and a well-balanced community," says McDonald. "The heart of our culture is agriculture, the culture of producing food. Not only eating the boxed food we get at the supermarket, but producing our own food. The cycles of the harvest allow for a much richer community."
As I take my last bite of loco moco, Harmon shares why, in addition to the amazing food, visitors and residents should tour the farm and have a meal.
"To see this end of the island, which is so beautiful. It's different from their concepts of the tropics. It's drier, but we have a unique climate here and a unique experience of our local people, who are very mixed, ethnically. And, we're all working together: Hawaiians, Caucasians, Asians and members of our community are all working hand in hand and actually being brothers and sisters."
---
Kahumana Organic Farm and Cafe
From H-1 Freeway, take Farrington Highway, then make a right at Mailili Road, which turns into Lualualei Homestead Road. Then, turn left at the Kahumana Organic Farm and Cafe sign. 86-660 Lualualei Homestead Rd., Waianae, Oahu, (808) 696-2655, kahumana.org.