What it means to make lei with Rob Escuadro
Creating lei for more than 30 years, Rob Escuadro finds the process to be a meditative experience.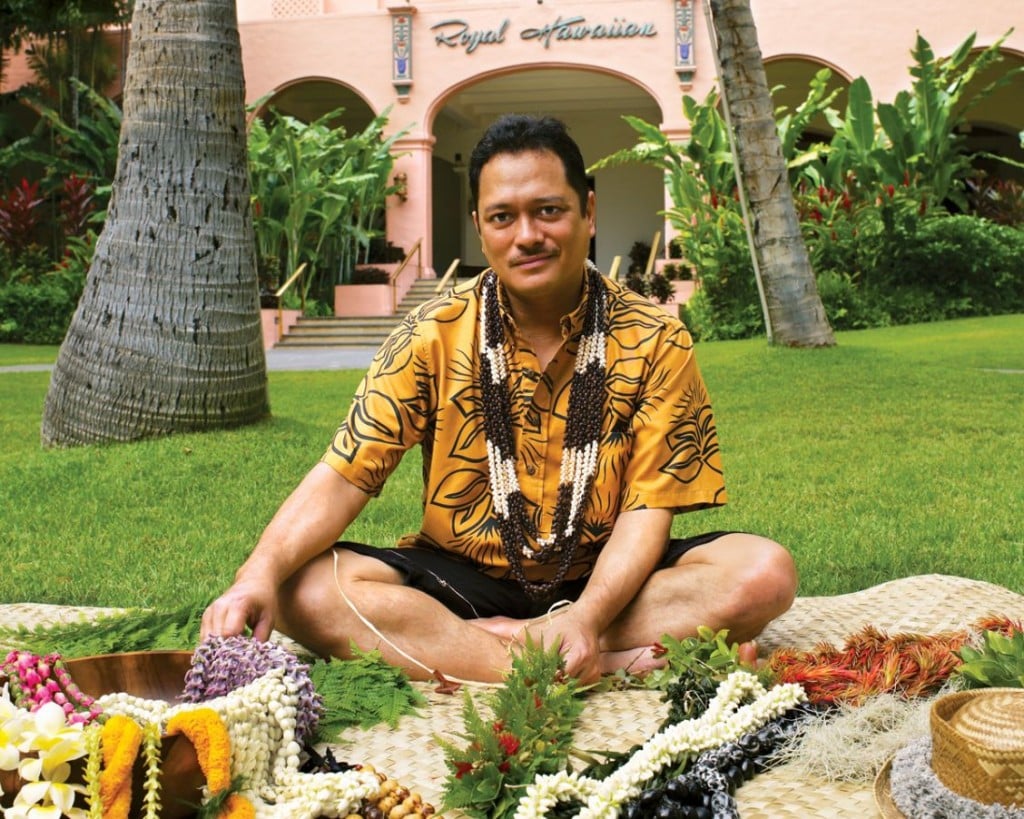 "When you make a lei, your whole being goes into it," says Rob Escuadro, a guest services ambassador at The Royal Hawaiian hotel in Waikiki. "Lei should be made and received with joy, gratitude and love."
Rob has made lei for festivals, holidays, graduations, funerals, weddings, hula shows and many other occasions for more than 30 years. Sometimes he makes lei for no other reason than to bring a smile to someone's face. "Making lei is a spiritual activity as much as it is an artistic one," he says. "When I'm making a lei, I think of the affection I have for the person who will be wearing it and the pleasure I hope it will bring to him or her."
When he was in high school, Rob began helping his sisters make lei for their hula performances. Finding the art both enjoyable and challenging, he was inspired to delve deeper into it. He found a patient and knowledgeable mentor and friend in Dora Ganeau, whose mother operates a lei stand at Honolulu International Airport.
"Dora taught me the techniques, how and where to gather plants and flowers, how to care for them and create designs, and how to refine my work," Rob says. "She saw that I had a talent for lei making, and she encouraged me to continue doing it."
Word about Rob's lovely lei quickly spread. Friends, family, hula halau and even strangers started asking him to make lei for them. For The Royal Hawaiian's 75th anniversary in 2002, he helped create a 500-foot lei, which was draped from the lofty bell tower for all to admire. Employees helped gather some 2,000 ti leaves, 500 anthuriums, 500 red ginger and 500 bird of paradise for the magnificent wreath. It took 15 hours to make the lei, and it remained on display for a week.
Rob likes working with palapalai ferns; green ti leaves; and native Hawaiian flowers, which he handpicks for their color, texture and hardiness, and to match the person and the occasion. He gathers all of the materials for his lei himself, often traveling far beyond his home in Moiliili, near Waikiki, to comb secluded beaches and forests high in the mountains to find them.
To Rob, the lei embodies nature, and gathering plants and flowers is a reverent, meditative process. He treads lightly on the land and makes his selections quietly and gently, never leaving with more than he needs. "For us Hawaiians, gathering is a time to honor nature, connect with our ancestors and cherish the recipients of our lei," Rob says. "Before entering the place where I'll be gathering materials, I always say a short prayer of thanks and for guidance to Akua (God). Gathering is a peaceful time. It fills me with gratitude. I often sit beneath a tree to listen to nature, look at the beauty around me and inhale the wonderful fragrances."
The more materials Rob puts into a lei design, the longer it takes for him to make it. For big projects such as multiple lei for a hula halau, he has worked for 10 hours straight with few breaks. He never rushes. He knows the lei is finished when it reaches the right length. The ubiquitous "necklace" lei that rests on the shoulders is 36 inches long; lei ai, which encircles the neck, is 28 inches long; and lei poo, which adorns the head, is 21 inches long.
Sitting on the floor of his apartment on a recent afternoon, Rob begins weaving a lei poo as Hawaiian music plays softly in the background. It's a gift for a young, petite girl, so he has chosen a pastel palette of pink roses, white orchids, lavender statice, palapalai and baby's breath. He picks up several long strands of raffia and ties them together with a knot at one end. Holding the knot with his teeth, he twists the raffia into rope, around which he will wrap the blossoms and ferns. His fingers move swiftly and gracefully, bringing the design he pictures in his mind to life. As he works, he continually ensures the placement of the materials is even and of a consistent width—something he can tell by feel.
"Making lei is a privilege and a blessing," Rob says. "I enjoy the creativity, working with plants and flowers, and giving people lei. Their eyes light up, they hold their heads high and they walk straight and tall—with pride. I feel good because I can tell wearing the lei makes them feel happy, special and loved. For me, there's no greater reward than that. To me, the lei is the ultimate expression of aloha."