What to Do When You Happen Upon a Hula Ceremony
There is a difference between performing hula for entertainment and engaging in hula as a sacred ritual.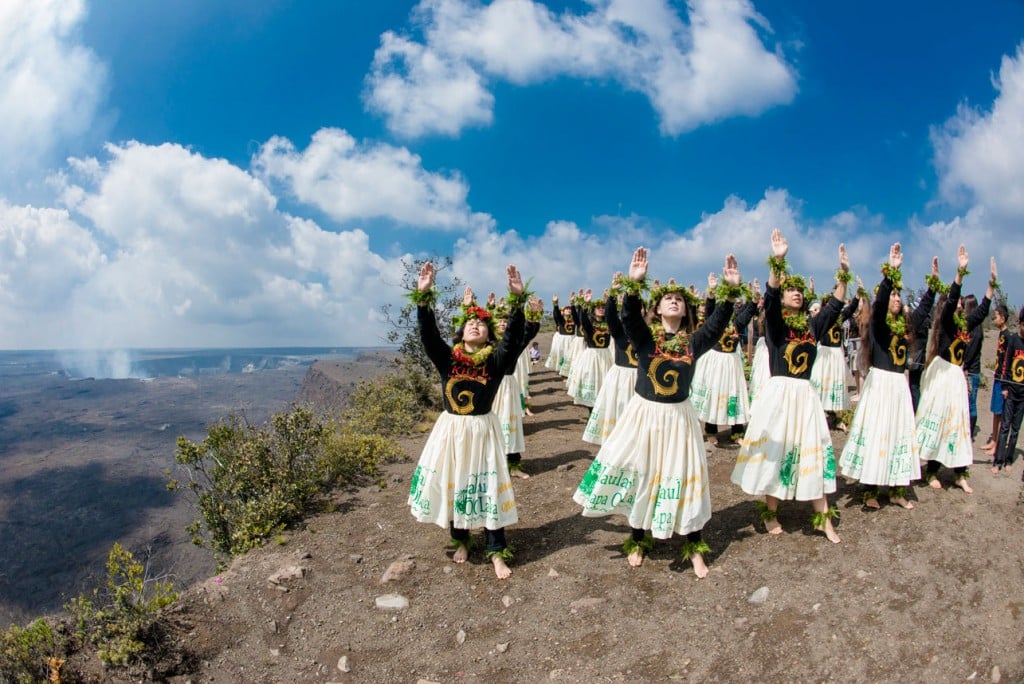 Traditional hula practices thrive on Hawaii Island, particularly during Merrie Monarch. We asked lunar calendar expert and researcher Kalei Nuuhiwa for her insights on how to respectfully approach people who are practicing their traditions.
Picture this:
It's a perfectly beautiful day at the Kilauea crater. The smoke is rising above Halemaumau. The wind is blowing softly and off in the distance you see a crowd gathering at the edge of the crater. A single voice ascends, or perhaps it's multiple voices. You have most likely stumbled upon practitioners conducting a ceremony that they consider sacred.
What should you do?
There is a difference between performing hula for entertainment and engaging in hula as a sacred ritual. Hula that is for entertainment is inviting and inclusive; the dancers and the observers are mutually active. Do participate in as many of these as possible during the Merrie Monarch.
Ceremonial hula is different. Ceremonial hula is uninviting and exclusive, requiring the practitioners to focus intently on their rituals and dances. To them, the area in which they have gathered is sacred in the same way that a church or sanctuary is considered. Do be mindful of your actions and remain at a respectful distance unless invited in to participate. Don't walk up to the group and begin to ask questions. Instead, observe silently from the distance. The answers to your questions may unfold as the ceremonies continue, and if not, it's okay to just enjoy the moment.
Some practitioners may enlist the help of kiai, who will stand along the borders of the sacred space during the ceremony. Kiai are guards who have been tasked with keeping people from interfering with the rituals. They will tell you how close or far you can get to the group, will likely ask you to remain silent and in some cases will ask observers to refrain from taking pictures. Don't be offended if you're asked to leave the area. As mentioned earlier, some hula rituals are conducted privately and the group may prefer to be without an audience.
Finally, hula practitioners from all over the world come to Hawaii Island during the Merrie Monarch to pay homage to the deities of hula found in the forests or in Kilauea. These practitioners will more than likely leave hookupu (offerings) behind. Lei made with native plants, which may or may not be bundled in ti leaves, are often left as offerings. Don't touch, shift or remove any of these offerings if you come upon them. Do feel fortunate that you got to witness something special and uniquely Hawaiian.
---
The original version of this story ran in the May 2015 issue of former sister publication, MANA Magazine. For more stories from MANA Magazine, purchase the MANA book by visiting welivemana.com and use promo code MANAHIMAG to receive 30 percent off the retail price.